Best Combo Bouncer Rentals Long Island
Want a bit more inflatable fun than the regular bounce house offers? Try an awesome combo bouncer, with a built-in climbing wall and dry slide! Jump and Slide has an immense selection of combo bouncer rentals and themes ranging anywhere between Mickey Mouse and Star Wars; you can even customize your theme on most Combo Bouncer Rentals! Don't see it? Just ask! Be sure to check out our awesome Inflatable Games, Carnival Game Rentals, Concessions & More to bring the carnival to you; we also offer event staff packages so you can remain a part of the party!
Our combo bouncer rentals Long Island can help you cool off this summer. It is common for New York to heat up during the summer. While it might not get as hot as some other states, it is certainly hot enough to hire party bouncer rentals Long Island and get the family together for a party. Regardless of the size or type of event you have planned, we have just the thing for you to help cool off. Not only are you guaranteed lots of wet and wild fun, but we are committed to providing you with 5-star customer ser service. That's why from the time you book any number of inflatable bouncers rentals Long Island, to the time we deliver, you are treated with respect and professionalism every step of the way.
As a locally owned and operated company, we provide various types of inflatable bouncers rentals Long Island. We also have something for everyone regardless of their budget. If you are on a small budget, our cheap bouncer rentals Long Island ensure that you are treated to excellent quality bounce houses, which are cheaper than the rest. That said, if you are looking for the latest or the largest bounce house in Long Island, New York, we have them too. Furthermore, we have loads of other stuff you might need for the party, including carnival games, concessions, and bounce houses, amongst numerous other items.
A Large Selection of Combo Bouncer Rental Long Island Options to Choose From
Long Island can get pretty hot starting in May, and that's the perfect time to have a party in your backyard. It is also a time when many schools, parks, and convention centers have parties scheduled. When you book our bouncer rental Long Island you are treated to one heck of a party. Our bouncers are available for kids of all ages, so whether you want something large for older kids and young adults or perhaps something for the toddlers in the group, you'll find it all right here.
Apart from having the largest selection of party bouncer rental Long Island, we also assure the safety of our clients and your guests. As a fully licensed and insured company, we take numerous precautions to ensure that the inflatables can be safely used. Furthermore, we only have and use the highest quality inflatables made from durable vinyl and netting. When choosing us for your inflatable bouncers rental Long Island, you can be assured that we are nothing short of true professionals who care about your event and your guests. That's why no matter if you're planning a small or a large event, our party rentals are sure to put a smile on everyone's faces.
Why Choose Our Inflatable Bouncers Rentals Long Island?
Well, there are quite a few reasons to choose our party bouncer rentals Long Island. One of the most significant reasons is that we have the largest selection of items like obstacle courses, bounce houses, bouncy castles, etc. What's more, is the fact that our party rentals are competitively priced, so you can be assured of saving money by choosing to hire from us.
We have some of the most fun and entertaining bouncers available, like the Mermaid Bounce House Combo, which is great for young girls' parties. The ALL-NEW Jurassic Dinosaur Party Combo and the Monster Truck Inflatable are amongst our most popular for young boys. If you want something big and fun, then you can't go wrong with the Candy Land Sugar Shack bouncer with DRY Slide, which gives you a sort of two in one.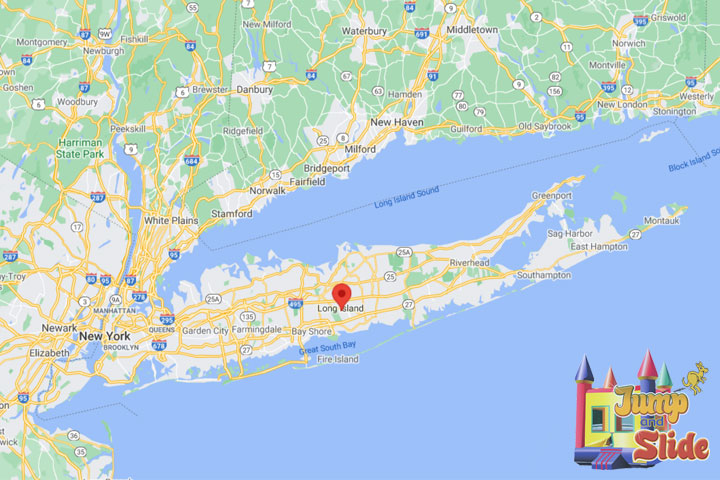 We Deliver Combo Bouncers Across Long Island
We have been working with home and business owners, delivering cheap bouncer rentals Long Island on time for years. While cheap is a relative term, our bouncers are cheaper than what you'll find anywhere else. Even our higher-quality premium bouncers are competitively priced. So, regardless of how many you hire, we bet that you'll save money, both on the price and the fact that we offer free delivery to your venue. All you need to provide us with a reliable water source, and our team will handle the rest.
All items are meticulously inspected to make sure that they are both safe and clean. However, as an added safety precaution, we clean and sanitize all long island party bouncer rentals before they are delivered and set up. So, you can be assured of a top-quality service but not have to break the bank to afford it. Plus, our free delivery and setup save you from having to spend more or worry about getting everything up and running before the party.
How to Book Combo Bouncers in Long Island
Now that you are planning a summer party, have a date in mind; the next step is to book our long island party bouncer rentals. Fortunately, we've made the process as easy as it can be. In fact, our online booking process is the easiest in the industry, taking most of the hassle and frustration out of the equation.
Also, if you have questions or would like to get a quote for a bulk rental, our team can help you before making a reservation. Here is how to book our party bouncer rentals Long Island:


Select your Inflatable or Item


Choose Date and Time


Enter Customer and Event Information


Finalize Request Deposit and Digitally Sign Contract


After the process has been completed, our team will contact you to confirm the reservation. We'll also discuss when to deliver the items you've rented. That said, if you are planning a party, do not forget to add some interactive games, bounce houses, and obstacle courses to the list for some extra fun. Book your cheap bouncer rentals Long Island today.
FAQs Regarding Your Next Inflatable Bouncer Rental on Long Island
We have a few quick tips for you to help with reserving your next inflatable bouncer rental in Long Island. ALL inflatables require an outlet within 100ft of the set-up area. Some inflatables may require two outlets on separate circuits within 100ft of the set-up area for electrical safety while operating the inflatables. IF your event is being set up in an area without electricity available, check out our generator rental option. For Water Slide Rentals (including Combos), the customer is required to supply the water and the hose; please ensure the hose reaches your preferred area and there is adequate room for set-up.
Overnight rentals: If you choose to pay for overnight rental, we will pick it up any time after 7:00am the next day. Our professional services are provided to parties and events all across New York & Long Island. We deliver to all of Nassau and Suffolk County, including the Hamptons! See our detailed delivery area page to search by Zip Code. To inquire about a rental please contact us at 631-321-7977, or add to your cart and then click on the View Cart button at the top of the webpage.
Here are some important tips to help along the way:
DELIVERY FOR INFLATABLES
WE DO NOT GO UP OR DOWN ANY STEPS. YOU MUST LET US KNOW IF YOU HAVE ANY STEPS
We may deliver up to 32 hours before your contracted start time. It's at our discretion so if your start time says 3pm we may deliver the day before as early as 7am. We will always call the day before we deliver.
Keep in mind this does not guarantee we will deliver the day before. We guarantee you it will be set up before your contracted start time.
PICKUPS FOR INFLATABLES
We will pick up all inflatable rentals from 1 minute after your contracted start time up to 24 hours after your contract time ends
If we are not picking up the day of your rental, we will notify you by e-mail or text
Ideally, you should book at least a week before the scheduled party, if not more. That said, you can also get in touch with us to find out if what you need will be available at that time.
Yes, you will be required to make a security deposit and then pay for the items prior to delivery. However, it is always a good idea to might as well pay for everything so that you have one less thing on your to-do list to worry about.
>It's best to prepare the setup area well in advance of our delivery crew's arrival to avoid any delay in your event. Please make sure the area is free from debris, obstructions, pet feces, and loose grass clippings. Keep in mind, that a cleaning fee may be assessed if the area is not prepared properly.
Testimonials from Happy Customers Who Rent Our Bouncer Inflatables in Long Island, New York
See why we are the top-rated combo in all of Long Island, New York for a bouncer inflatable. Customers who rent our bouncer inflatables for their events keep coming back for more because of the level of service we provide and top-notch equipment. They know they can count on us to get it done right the first time. Don't take our word for it, browse around and check out all of our testimonials on various platforms. Below are a few of just the thousands of happy customers over all the years.
"I would have to say that Jump and Slide is the best party rental near me. They offer excellent rates coupled with impressive service. That's why I use them for every party."
"Jump and Slide has the best customer service, and many party items they have can't be found anywhere else near me."
"The best party rental near me, the guys at Jump and Slide, are true professionals and care about their clients. That's why they have been my go-to service for a few years now."