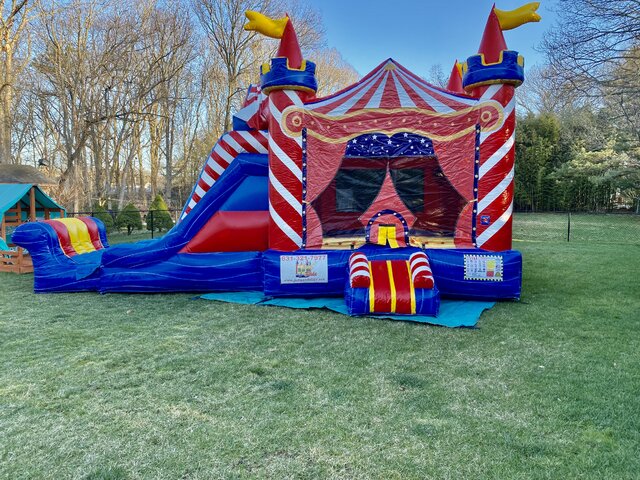 (#2) NEW 2023 Carnival Bouncer With Double Lane DRY Slide #CU4
SIZE: 32' L x 18' W APPROX 16 FEET TALL | POWER: 1 SEPERATE - 20amp circuits WITHIN 100 FEET OF SETUP AREA | AGE: Kids and Adults.
Looking for a fun addition to your next event or party? Look no further than our Carnival Bouncer with Double Lane DRY Slide! This inflatable bouncer is perfect for kids and adults alike, and features a spacious jumping area and two exciting slides for non-stop fun. With its colorful carnival theme, this bouncer is sure to be a hit with guests of all ages. The double lane slide allows two people to slide down at once, adding to the excitement and competition. And because it's a dry slide, you can enjoy it even on hot summer days without getting soaked. Our Carnival Bouncer with Double Lane DRY Slide is a safe and reliable choice for any event. So why wait? Add this inflatable bouncer to your next party or event and watch as your guests have a blast!
Everyone loves a Carnival.This beautiful inflatable Carnival bounce house rental is perfect for the backyard carnival or large enough for the school carnival.
It has a big bounce jumping area along with a double lane dry slide.If you are looking to have a carnival themed party on Long Island this is the perfect choice. Kids and adults love this bouncy bouncer. The giant double lane dry slide will keep them busy for hours.