Wet and Wild Water Slide Rental Long Island
When the weather starts heating up, that's when you need to start planning how to cool off with a water slide rental Long Island kids go nuts over. We are New York's leading water slide rental company, with a broad selection of water slides in Long Island ranging from giant 22 feet high slides that will make grownups cry to smaller size slides for younger kids. Our rental water slides Long Island come with either large catch pools or splash landings as well as single or dual lane options. There is no better way to get wet and wild to enjoy the summer than that! What's more, is the fact that our rentals are amongst the most competitively priced in Long Island, and we deliver across every zip code including both Nassau County and Suffolk County. All you need to do is book a water slide rental Long Island of your choice, and we'll make sure it gets to you hours before the party!
Jump and Slide Entertainment is a locally owned and operated company that's been servicing the city for a very long time offering some of the best water slide inflatable rentals Long Island. They are the perfect choice for all kinds of events ranging from backyard birthday parties, sports team gatherings, church events, school water days, corporate outings, and more. Over the years, we've accumulated quite a large selection of water slides, which never fails to get the attention of our clients who are looking to party in the summer. In addition to a water slide rental Long Island, we also have bounce houses, dry slides, inflatable games, and loads of other inflatables. So, book your water slide inflatable rental Long Island today and start having fun as early as tomorrow!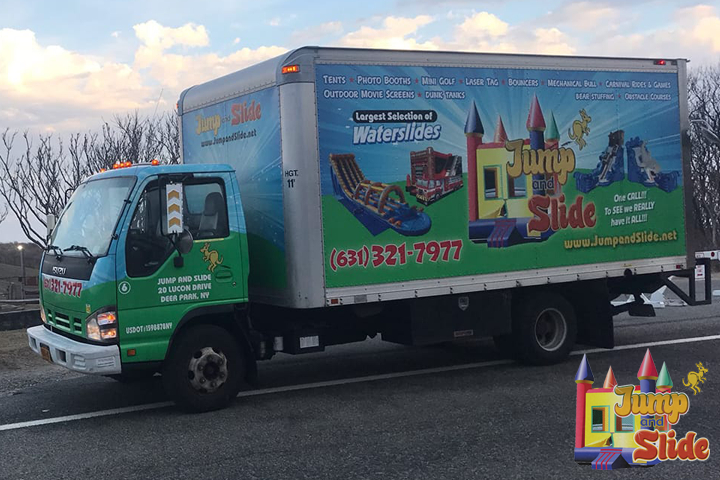 A Large Selection of Water Slide Rentals Long Island
Long Island can get pretty hot during those summer months, but it is also an excellent time to party outdoors especially with something from the largest selection of water slide rentals Long Island has to offer. In fact, summer is the only time when most people will get together to host a party outdoors in the city. Our inflatable water slide rentals on Long Island are the perfect choice for your guests to cool down at those summer parties. Just a couple of our slides can transform your backyard bash into a blockbuster party creating your very own water park. Invite the family, friends, and everyone else you want to cool off to what can be a memorable party you host every summer. The best thing about our inflatable water slide rentals Long Island, NY is that they are affordable, and there is something for everyone. So, whether it is toddlers or young adults, we guarantee that everyone will be kept entertained.
While having fun is essential, so is safety. In fact, safety is a top priority when it comes to all our inflatable water slides rentals Long Island. At Jump and Slide, we have become known as one of the most sought out choices for a water slide in Long Island NY because we offer all high-quality waterslides that our customers can rely on. With so many options to choose from with sizes ranging from 13 feet up to 22 feet tall, there is something to suit any age group. Most of our inflatables are perfect for ages 3 and up but those larger slides with huge catch pools maybe a little too intimidating to the younger crowd. That is why we have such a great assortment to choose from. You can even find some that come with a bounce house like a combo type unit for a water slide bounce house rental Long Island.
We have the latest and greatest for water inflatables Long Island! For years, we have been offering single and dual options when it comes to blow up water slides for rent Long Island. Our older crowds love the huge dual-lane Long Island inflatable water slides because they provide a little competitive fun amongst friends. With dual lanes, two riders can slide at the same time safely. We also have inflatable slip n slides that are perfect for all ages, even adults. Imagine the classic slip n slide on the grass but much larger and inflated for one of the coolest blow up water slide rental Long Island college kids love. So much fun to be had with these things! Browse one of the best selections for water slide rentals Long Island and book your fun now!
Why Choose Our Water Slide Long Island?
We are a fully licensed and insured company in the State of New York that takes every precaution to ensure that our equipment or more importantly any water slide Long Island we offer is 100% safe for our clients. When you choose Jump and Slide, you can be assured of working with top professionals who care about your guests and your event. Whether it is a 22ft tall water slide or one of our smaller ones, we make sure everyone is having fun and is safe. After all, our premium blow up water slide rentals Long Island never disappoints.
One of the most significant reasons to choose us for a water slide Long Island is that we have the largest selection of water slides to select from. No need to settle on something you find on social media or some other website. Here we stock some of our most popular Long Island inflatable water slides include the brand new 2021 Giant Circus Funhouse WATER Slide, followed by Sunset Falls Double Lane Water Slide, Double Dolphin Waterslide Plunge, and another new 2021 purchase, the Glacier Falls with pool, amongst dozens of others. Besides a wide selection for an inflatable water slides rental Long Island, we also have numerous other to take your party to another level. So, take your pick and start having fun at your next party.
If there is one thing you can rely on, that is Jump and Slide Entertainment can guarantee you will receive a premium water slide rental on Long Island that will surely impress your guests. It will be cleaned and sanitized prior to its arrival which will be hours before the event. No need to stress the day of the event if your water slide Long Island will be there on time. We show up on time, every time! Let the guys at Jump and Slide handle all the entertainment for the kids while the adults get the sit back, relax, and enjoy each other's company. Put your trust in us like the rest of Long Island, NY for their water slide in Long Island NY!
We Deliver Fun and Our Water Slides Long Island
For years, we have been delivering to customers all over with the coolest water slides Long Island. You know you will have the best; most fun water slides that money can buy. We have the knowledge and understanding of the party you are planning, which is why you need to look no further. It doesn't matter the occasion because we can handle them all. We frequently deliver quality not cheap water slide rentals Long Island to schools, churches, communities, backyards, and parks across the city.
We have a dedicated team of experts who will deliver the inflatables safely and make sure it is there on time. Plus, once the items reach your venue, they are carefully set up by our professionals. Our friendly delivery crew will go over the safe operation prior to departing. Rest assured we will make you can feel safe about our water slides Long Island once we leave. Our crews will return to pick everything up once the event is over. No need to lift a finger!
Furthermore, you are treated to the most competitive pricing to rent inflatable water slides Long Island, so you have to worry about breaking the bank for a party. No need to keep searching and asking around for a cost for a water slide rental Long Island. Jump and Slide Entertainment has you covered for water slide rental near me!
How to Book Your Inflatable Water Slides for Rent Long Island?
We have made booking your inflatable water slides for rent Long Island very easy. Our online booking system takes all the stress and hassle out of finding and booking the right water slide rentals via just any browser-enabled device. Furthermore, our team is always available if you have any questions or concerns about our items. We are also happy to answer any questions regarding bulk rentals and the availability of our water slide rental in Long Island.
Here is how you can book inflatable water slides Long Island NY:


Select your Inflatable or Item


Choose Date and Time


Enter Customer and Event Information


Finalize Request Deposit and Digitally Sign Contract


After you have followed the abovementioned process, our team will contact you to confirm the reservation, allowing us to schedule a delivery window. Don't forget to add on some games or concessions to add even more fun to the party! We also have tents, tables, and chairs as well. Book your fun today with our inflatable water slides for rent Long Island.
Frequently Asked Questions on Inflatable Water Slide Rentals Near Me on Long Island
Over the years our customers have inquired about our inflatable water slide rentals Long Island so we have compiled some of the most frequently asked questions. If you have any existing questions about our water slide rentals near me, just give us a call!
Happy Customer Testimonials for Water Slides Near Me in Long Island New York
Over the years, we have gathered some amazing and happy customers when it comes to hosting their events using our waterslides in Long Island New York. Here are some of the 5-star reviews we have on social media and Google. If you don't believe us, take a gander for yourself and see why we are the top-rated company for a waterslide on Long Island. There is a reason why so many choose Jump and Slide Entertainment when searching for water slides near me in Long Island New York.
"This is my second time renting from Jump and Slide and both times were great! The website is easy to negotiate, responses were prompt, a call was made prior to the day to arrange set up time... and the crew arrived on time the day of to set up. They did a great job setting up and removing the slide when it was time. The water slide I rented was a big hit! Thank you again!" S. Gordon
"I HIGHLY recommend Jump and Slide Entertainment. The staff (I can't remember the woman's name) and owner, Anthony were extremely friendly and professional. Great customer service! (That's the MAIN reason why I decided to do business with them.) I received my water slide on time and the setup was quick. No issues at all. The slide was good quality. The kids had a blast. I'll definitely do business with them and refer them to family and friends. Thank you so much for your great service!! BTW...I recommend the Fireball Splash with pool. The kids played on it for 7 hours straight!!!!" Lisa
"You need a waterslide? This is the company! We planned a last minute party, called them 10 times with various questions before we made a selection. Each time their customer service staff were more than happy to patiently and professionally answer each question. Their hardworking staff delivered and set up our 25' slide on-time without a hitch. The slide itself was IMPECCABLE! Clean, well-designed and absolutely no concern about it's safety. We're so grateful we found Jump and Slide and highly recommend them for your next party!" Debbie G.