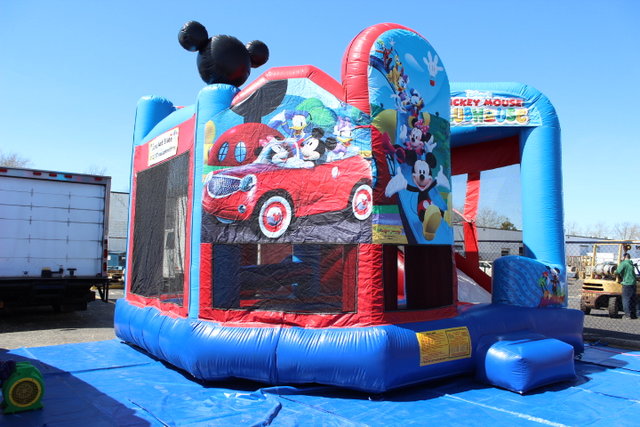 (51) Mickey Club House Water Slide Combo
Mickey Clubhouse water slide combo bounce house rental
WE DO NOT SETUP ON SAND OR WALK ACROSS AND TO SETUP
Client supplies the water and water hose. Client is aware not to use retractable pocket hoses as it will take hours to fill up. Client agrees we are not responsible for water pressure or electrical issues
SIZE:19 L x 19 W x 14 H | POWER: 1 - 20amp circuit | AGE: Kids and Adults
We don't just promise.....We deliver!
Mickey Mouse bounce house rental Long Island NY. We have the perfect party rental for your kid's birthday party. Hang out with our Licensed Mickey Mouse bouncer and slide in his Club House! This crazy cool unit is slightly larger than the Mickey Mouse and Friends Combo, but it has the same 5-in-1 features: a basketball net, obstacles, and a set of stairs and slides, and last, but certainly not least, the bouncer! We have a mister water hose attached to the top of the slide to create the perfect waterslide
We deliver to all of Nassau and Suffolk County for the party and inflatable rentals. We also deliver to ALL the Hamptons for all your inflatable and party needs!