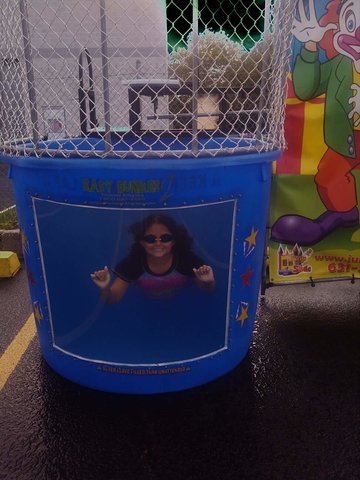 (#23) Dunk Tank Rental (need 6 foot opening in fence)
Setup Area: Must have 6 ft. opening in fence/gate!
Outlets: No electric required
Age Group: Kids and Adults (Commercial Grade)




Dunk Tank
Item Description:
Get ready to make a splash with our exciting Dunk Tank rental! Jump And Slide deliver the best dunk tanks around on Long Island. Whether your event is in Nassau County or Suffolk County you can count on the Veteran owned business Jump And Slide.The Dunk Tank is a classic carnival attraction that guarantees fun and laughter for participants and spectators alike. Take aim and throw a ball at the target, aiming to hit it just right and send your brave volunteer plummeting into the water below. Whether it's a charity event, school fair, or backyard party, the Dunk Tank is always a crowd favorite. It's the perfect opportunity to soak your friends, colleagues, or even your favorite teacher or boss! Everyone will gather around, eagerly awaiting their chance to dunk and cool off on a hot summer day. So, gather your aim, summon your courage, and let the splashes and cheers begin with our thrilling Dunk Tank rental!
Important Notes:
The Dunk Tank requires a 6 ft. gate opening. We cannot lift over any gates or carry this up any steps

Dunk Tank can be used on pavement

Weight LIMIT: 250 pounds

The dunk tank comes in a variety of colors and themes, which are given upon availability and cannot be reserved according to preference.
Rental Specifications/Requirements:
Supervision is required at all times

Jump and Slide is not responsible for bad weather after delivery

If any issues arise during rental period, client must call or text our office to resolve any problems

If it rains during setup or after unit(s) are setup, be aware as water will get inside the unit(s)

We CANNOT set up on sand or walk across sand or STEPS to set up

Client supplies the water and water hose. Client is aware not to use retractable pocket hoses as it will take hours to fill up. Client agrees we are not responsible for water pressure or electrical issues

Our crew cannot wait for the tank(s) to fill up when delivering
DON'T DELAY, CALL TODAY! 631-321-7977