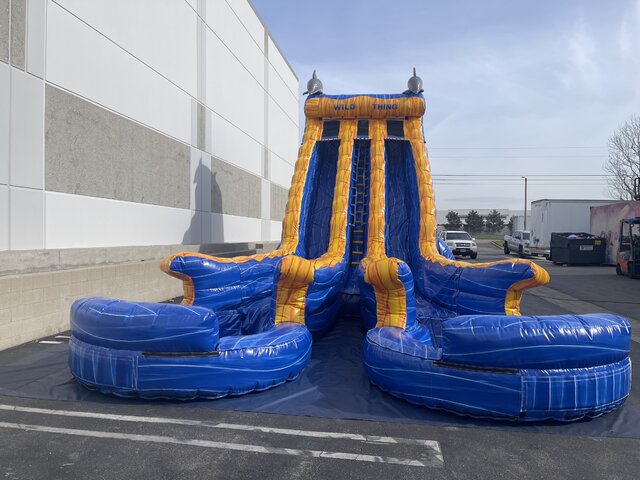 (#2) NEW 2023 WILD THING Water Slide With TWO Pools
SIZE: 44' L x 24' W APPROX 25 FEET TALL | POWER: 2 SEPERATE - 20amp circuits WITHIN 100 FEET OF SETUP AREA | AGE: Kids and Adults.
WE DO NOT SETUP ON SAND OR WALK ACROSS SAND TO SETUP
Client supplies the water and water hose. Client is aware not to use retractable pocket hoses as it will take hours to fill up. Client agrees we are not responsible for water pressure or electrical issues
We don't just promise.....We deliver
Wild Thing! Giant inflatable waterslide rental from Jump and Slide Entertainment will make your heart sing.
Check out these split pools at the end of this massive double-lane waterslide rental in Long Island. Jump and Slide will deliver this waterslide for school carnivals, street festivals, and backyard party rentals in the Hamptons or anywhere in Nassau or Suffolk County. Jump, and Slide is the best place for all your bounce house rentals and party rentals.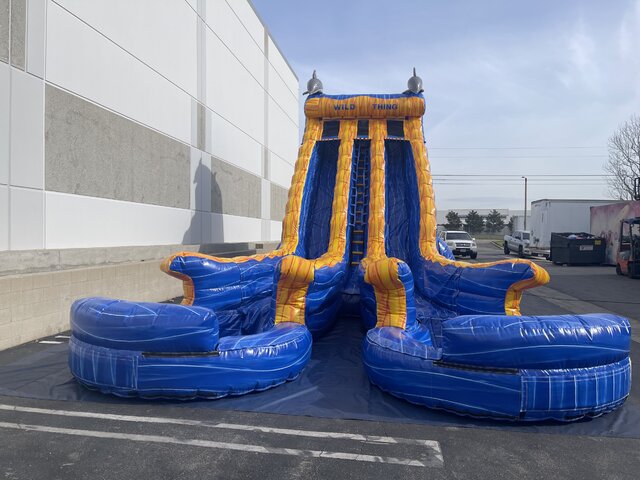 Get ready for some wild fun with the WILD THING Water Slide with TWO Pools! This incredible inflatable water slide is the perfect addition to any backyard, providing hours of entertainment for kids and adults alike. With two pools, this slide is perfect for those hot summer days when you need to cool off.
The WILD THING Water Slide with TWO Pools is made from high-quality materials, ensuring that it is durable and long-lasting. The slide itself is made from heavy-duty PVC material,.
this water slide is perfect for kids of all ages. It features a steep incline that leads to a thrilling drop into the first pool, followed by a second drop into the second pool in the other lane. The pools are deep enough to provide a refreshing splash, but shallow enough to ensure that everyone stays safe.Overall, the WILD THING Water Slide with TWO Pools is a must-have for anyone who loves water slides and wants to have some wild fun in their own backyard. So why wait? Order yours today and start enjoying the ultimate summer experience!