The Best Choice for a Long Island Bounce House
  Bounce Houses

Bounce Houses are the perfect addition to any party or event! These inflatable structures provide hours of entertainment for children and adults alike, with their bouncy floors and colorful designs. Whether you're hosting a birthday party, school carnival, or community event, a Bounce House is sure to be a hit. With a variety of sizes and themes to choose from, you can find the perfect Bounce House rental to fit your needs. From princess castles to sports arenas, there's something for everyone. Plus, Bounce Houses are easy to set up and take down, making them a convenient and hassle-free option for any occasion. So why not add some extra fun to your next event with a Bounce House?
Hey New Yorkers! Are you looking for an affordable Long Island bounce house to rent for an upcoming backyard party or maybe a school event? If that's the case, then look no further than Jump and Slide Entertainment; we are the most reputable company for bounce houses in Long Island, New York. In fact, we are well known for having the largest selection of some of the best inflatable bounce houses for party in Long Island. We are a locally owned and operated company, proudly serving customers for both their events at their home, school, church, park, business, or any other location for many of years. We believe in delivering hours of fun and a memorable experience with our Long Island bounce house rentals. After all, there is probably nothing more fun and entertaining than jumping on a bright and colorful inflatable that comes in many shapes and designs, perfect for kids ages 3 and up.
In addition to having one of the largest selections for a Long Island bounce house, we also have a highly experienced and dedicated team dedicated to making your event a success. Our team will ensure that your experience is free of any frustration or hassle from the initial interaction up until after the event. When you choose us, there is no longer the need to spend hours planning your next event when it comes down to choosing the entertainment with a bounce house in Long Island. Take advantage of our 100% stress-free process and enjoying the party like you should. If anything, we are dedicated to ensuring that you have fun and are more than satisfied with our equipment and customer service. If you have a question, do not hesitate to contact us, and our team will be more than happy to help you with all Long Island bounce house needs. In the meantime, browse our awesome selection to book your fun online today!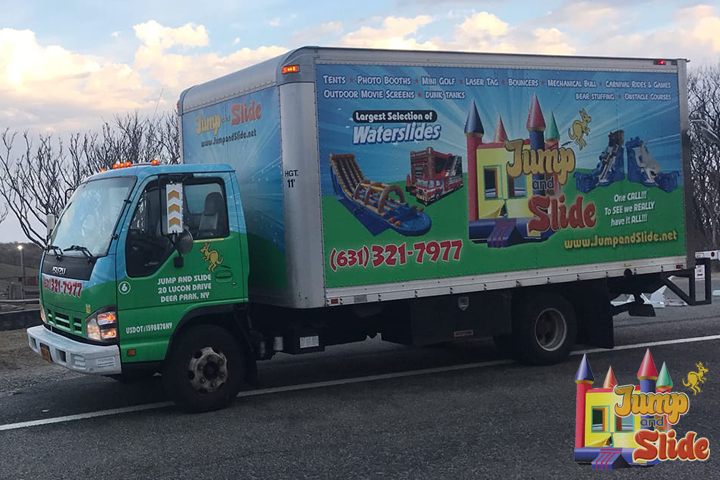 An Exciting Array of Long Island Bounce House Rentals
Are you planning to host an event in your backyard and looking for something to keep the kids from "bouncing off the walls"? The good news is that we don't have just one options for Long Island bounce house rentals; in fact, we have loads of them. We have so many that it is tough to list them all here. That said, some of our most popular ones that keep the kids busy for hours are the Modular Art Panel bouncer than can host a ton of themed banners which is perfect to fit any party theme. We also have things like the Disco Dome, Monster Truck, Police Car, and Fire Truck among the regular multi-color castle and the pink castles. We have choices to pick from for any gender or age group from the little sports enthusiasts to the little princesses. So it doesn't matter who they are for or what you call them like some others around the area such as moonwalks, bouncers, jumpers, jumping castles, space walks, bouncy castles, fun jumps, jumping jacks, or whatever else you can come up with because they all just mean fun for the kids.
Our inflatable bounce house rentals Long Island is also available in many different sizes. They are so cool that most come with a basketball goal inside and even more, but they are more commonly called a combo. The combo bouncers may feature cool and exciting things like a slide, obstacle pop-ups, climb wall, large bouncing areas, basketball goals, and more. The fun never ends with these inflatables which are great for kids ages 3 and up. The larger bounce houses can accommodate anywhere from 8-12 kids depending on their size.
So, whether you are planning a party for a few kids or maybe even a few hundreds, we have the right bounce house for you. Furthermore, we make sure to deliver all the inflatable bounce house Long Island for rent on time, and our professionals will take care of setting them up for you. That way, you have peace of mind knowing that seasoned professionals are handling everything. We will also ensure that the bounce houses delivered are of the highest quality, clean and our team will answer any questions you might have right away too.
Why Choose Us for a Bounce House Long Island?
We have one of the largest selections of inflatables to choose from and most of all the popular bounce house Long Island kids go crazy over for their party. For decades, the bounce house has evolved into what is today from the basic original Space Walk but at the end of the day they are still the staple of all children's birthday parties. The fun doesn't stop there because customers use them for all sorts of events, and they know they can count on Jump and Slide Entertainment to bring that fun. We are your locally owned and operated Long Island bounce house rental company that customers flock to because of our top-notch equipment and stellar customer service. We are a fully licensed and insured company in the great State of New York based out of the Long Island area. While we not be the go-to place for bounce house rentals Long Island cheap, we sure are the top rated company in the area.
All our bounce houses are closely inspected for safety and hygiene before and after each rental. We make an active effort to ensure that every bounce house for party Long Island in our inventory is stain-free, odor-free, and germ-free. Everything is cleaned before it is delivered when it comes to our party bounce houses in Long Island NY. However, we will also clean everything once it returns to our warehouse. That way, you are assured of having the best possible equipment. No need to stress or worry when our delivery crew arrives if it will be some nasty equipment that is falling apart. Our equipment is in excellent condition and only of the highest quality the market offers. Rest easy when choosing to book a bounce house for kids Long Island NY with us.
Put your trust in us like thousands of other customers in the area for a bounce house Long Island. We have delivered fun to thousands of events each year bringing smiles to your guests and giving the ability to create everlasting memories on our bounce houses Long Island. We have an amazing 5-star reputation and the online reviews to prove it. For years, customers have used us for their bounce houses on Long Island and so should you.
Delivering Bounce House Rentals Long Island Kids Love
We are one of the top choices when it comes to selecting a company for bounce house rentals Long Island kids love. For years, we have been servicing thousands of folks all over Nassau County and Suffolk County for a growing number of homes, schools, churches, and businesses across the island. In fact, we are one of New York's leading services, with an extensive inventory of bounce houses of all shapes and sizes. At Jump and Slide, we have been serving the community of Long Island, NY for a very long time, and that's why nobody knows the party and event landscape better than us. Regardless of where your event might be hosted, there is a good chance that we can deliver your bounce house rentals Long Island.
Speaking of fun, we also work with many schools across Long Island School District including, delivering high-quality, commercial-grade inflatable bounce house rentals Long Island NY to all types of events. Our services are also sought after by many parents and party planners for public parks which are known to host a myriad of events for kids. It doesn't matter if you are hosting your event at a local church in the area or a park because chances are we have been there in the past. Just remember that some parks have certain requirements and restrictions when it comes to bounce houses rentals Long Island at one of their pavilions or shelters. Be sure to check their website before booking online or you can always call our event specialist to discuss your event.
How to Book a Bounce House Rental Long Island?
Any time you are ready to book a bounce house rental Long Island, you will appreciate how simple and quick we've made the whole process. Our convenient and user-friendly interface makes the experience to rent a bounce house Long Island NY a breeze, in fact, booking all our party rentals just takes a few clicks. Our newly designed website should make shopping and browsing around our awesome assortment of bounce houses easy as pie. Just follow the quick steps below to book your inflatable bounce house rental Long Island.
Here is how to book a Long Island bounce house rental:


Select the inflatable or party item.


Choose when you need it, i.e., date and time.


Enter information about your event and yourself.


Finalize Request a small deposit and then digitally sign the contract.


Once the process is complete, you will receive an email confirming all the information which can be kept for your reference. We will also email you, reminding you of the delivery and confirming all the details for your bounce house Long Island rental. As a full-service company, you are strongly advised to take advantage of the full breadth of items available for rent. While we may not be the best cheap bounce house rental Long Island has ever seen and that is because all of our pricing reflects our level of equipment service which is why you may not see any low bounce house rentals Long Island prices.
Looking to Rent a Bounce House Near Me in Long Island NY Today
Our company offers an affordable, quick and easy way to hire all the entertainment you need for the kids especially when looking for a bounce house near me in Long Island. When you choose to use us, you're skipping all the stress, hassle, and time that would otherwise be wasted working with any other company in Long Island. We have a large inventory of party rentals and years of experience, so your party is in very good hands. Our team is all part of the family, and as such, we understand the importance of community and family. That's why as our customer, you are treated like family, i.e., with respect. Contact us today for your Long Island bounce house rentals needs.
Don't worry if the event you're planning isn't in Long Island; we will deliver all over in surrounding areas like North Fork, Fire Island, Hamptons & Montauk, North Sore, South Shore, etc. We service the following zip codes in Long Island: 11772, 11731, 11940, and 11942, amongst others. Check out our full delivery area for detailed information before proceeding to rent bounce house Long Island.
Frequently Asked Questions for a Bounce House in Long Island NY
Over the years our customers have inquired about our bounce houses in Long Island, so we have compiled some of the most frequently asked questions. If you have any existing questions about our bounce house rentals near me, just give us a call!
Testimonials from Happy Customers from Bounce House Rentals Long Island NY
With so many customers in the past, we have compiled a few of the hundreds of happy customers who were so kind to leave us their feedback on either social media, our survey, or Google as well as many other platforms. Look around and see why Jump and Slide Entertainment is one of the best around with tons of 5-star reviews from people who were very pleased with our services for their bounce house rentals Long Island NY.
"Been using Jump and Slide for well over 10 years. Never had 1 issue with them. Always fair on time and professional. Would never use anyone else." D. DelFranco
"What a great place to guarantee a wonderful time. Anthony and his team were professional, knowledgeable, patient and fun. Anthony, many thanks for your advise! (1st time kid birthday party organizer here). Your honest advise not only saved us money, but provided our kiddos and guests with hours of entertainment. The birthday candle bouncy castle/slide were incredibly clean. The whole experience, from phone calls to delivery/set up and then pick up, was smooth and pleasant. Can't recommend this place enough. Thank you for making this birthday celebration one to be remembered." Dominika B.
"Anthony and his team are top-notch. Unfortunately for them, I ask a lot of questions, but they had all the answers. During the pandemic, they ensured to be disinfectant fogging all bounces and then again disinfected on delivery. The birthday cake combo was clean and worked well. Steve and Edwin, who delivered the bounce, were very nice and upbeat. I even put Steve on the spot to "explain the rules of bouncing" to our kids and he was great. I wouldn't recommend going anywhere else." G Lepore