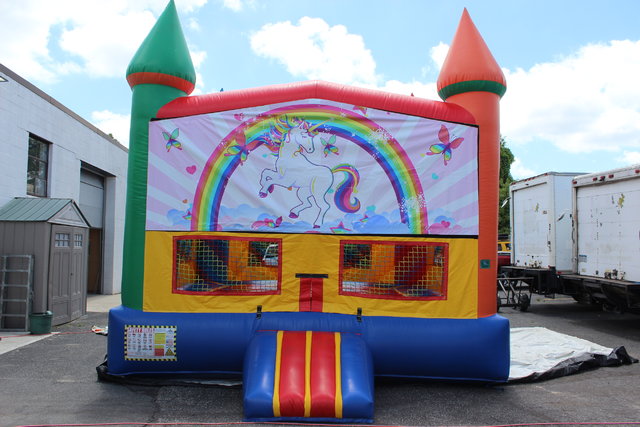 (#16) UNICORNS AND RAINBOWS ART PANEL BOUNCER
Outlets: (1) Separate electrical outlet, on its own circuit, within 100ft. of the Inflatable Attendants: Supervision IS REQUIRED at ALL TIMES




Art Panel Themed Bouncer
SIZE: 15' L x 15' W x 14' H | POWER: 1 - 20amp circuit | AGE: Kids and Adults

Rainbows and Unicorn bounce house rentals Long Island NY. Kids are going crazy over these bouncy bouncer party rentals. Book this bouncer for your child's 1st birthday party or any event celebrating. Jump and Slide has this fun Art Panel-Themed Bouncer that also includes a basketball hoop so your guests can bounce and practice their slam dunks.
We don't just promise.....We deliver!
DON'T DELAY CALL TODAY 631-321-7977
If it rains during setup or after unit(s) are setup be aware units will get water inside.
These units are not waterproof. Some units have mesh roofs and others have vinyl. Either one will get water inside the unit. Jump And Slide Inc will not be responsible for bad weather after the unit is delivered.
Introducing the magical world of Unicorns and Rainbows Art Panel Bouncers! These delightful bouncers are perfect for adding a touch of whimsy and fun to any event or party. Featuring a vibrant and colorful design, these bouncers are sure to capture the attention of children and adults alike.
Made from high-quality materials, these art panel bouncers are built to last and can withstand hours of bouncing and play. The panels are adorned with enchanting illustrations of unicorns, rainbows, and other magical creatures, bringing a sense of wonder and imagination to any space.
These bouncers are easy to set up and take down, making them perfect for both indoor and outdoor events. They are also lightweight and portable, making them ideal for transportation and storage.
Whether you're hosting a birthday party, school event, or community gathering, the Unicorns and Rainbows Art Panel Bouncers are the perfect addition to any celebration. Give your guests a truly magical experience with these delightful bouncers!