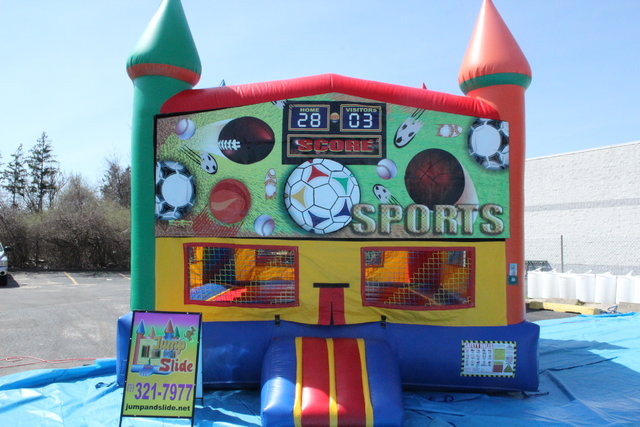 (#17) SPORTS ART PANEL BOUNCER
Outlets: (1) Separate electrical outlet, on its own circuit, within 100ft. of the Inflatable Attendants: Supervision IS REQUIRED at ALL TIMES




Art Panel Themed Bouncer
SIZE: 15' L x 15' W x 14' H | POWER: 1 - 20amp circuit | AGE: Kids and Adults
Calling all sports fans!!! This Sports bouncer is the perfect bounce house rental in Long Island NY. It comes with a basketball net inside. Having a sports-themed birthday party? Your kids will love this bouncy bouncer.
If you would like the Sports theme we also have other units we can create your sports theme with.
We don't just promise.....We deliver!
Themes can also be used on items B15, B17, CU1, CU2, CU3, WS6, & #OC8.
DON'T DELAY CALL TODAY 631-321-7977
If it rains during setup or after unit(s) are setup be aware units will get water inside.These units are not waterproof. Some units have mesh roofs and others have vinyl. Either one will get water inside the unit. Jump And Slide Inc will not be responsible for bad weather after the unit is delivered.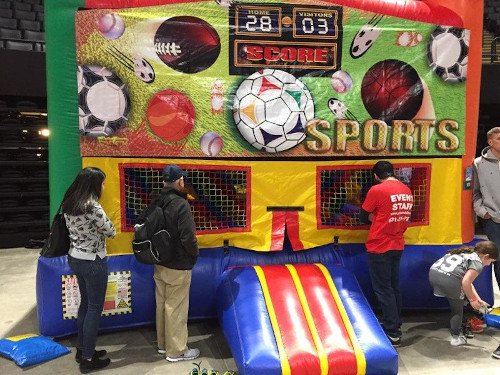 The Sports Art Panel Bouncer is the perfect addition to any sports enthusiast's collection. This Long Island bounce house rental is designed with sports-themed artwork and features a bouncy surface that provides hours of fun and exercise. The panels are made with high-quality materials that are durable and long-lasting, ensuring that your bouncer will withstand hours of party rental use. The Sports Art Panel Bouncer is perfect for both indoor and outdoor use, making it a versatile addition to any home or backyard. Whether you're a basketball fan, soccer player, or football fanatic, there's a Sports Art Panel Bouncer for every sports lover. With its vibrant artwork and sturdy construction, this product category is sure to provide endless entertainment for kids and adults alike. So why wait? Get your Sports Art Panel Bouncer today and start bouncing your way to a healthier, more active lifestyle!