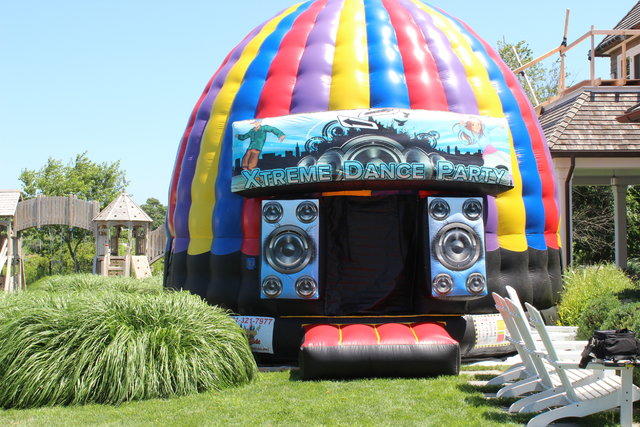 (#2) Rocking Party Bouncer with Music and Strobe lights #B13
Actual Size: 20'L X 24'W X 20'H
Outlets: (2) Separate electrical outlet, on its own circuit, within 100ft. of the Inflatable Attendants: Supervision IS REQUIRED at ALL TIMES




Rocking Party Bouncer
SIZE: 20'L X 24'W X 20'H | POWER: 2 - 20amp circuits| AGE: Kids and Adults

Introducing the Rocking Party Bouncer! Our clients like to party and we've created the perfect bouncer for them. This bounce house rental Long Island NY dares to be different. Inside, you will see a rotating disco ball displaying multiple colors, along with professional DJ speakers. Simply connect your mobile device to our speaker system, either through our supplied auxiliary cable or Bluetooth© and just like that, you have your own VIP dance club! Kids' birthday parties will be a blast with this one. This party rental bouncy bouncer is so much fun! We also added windows to the unit so it keeps you and your guests cool, as you bounce and dance to the beat. This new party bouncer can be used day or night because we installed black-out curtains as a courtesy to you and your guests. Order our favorite Long Island party bouncer today!
We deliver to all of Nassau and Suffolk County for the party and inflatable rentals. We also deliver to ALL areas of the Hamptons for all your inflatable and party rental needs!
We don't just promise.....We deliver!
DON'T DELAY CALL TODAY 631-321-7977
If it rains during setup or after unit(s) are setup be aware units will get water inside.
These units are not waterproof. Some units have mesh roofs and others have vinyl. Either one will get water inside the unit. Jump And Slide Inc will not be responsible for bad weather after the unit is delivered.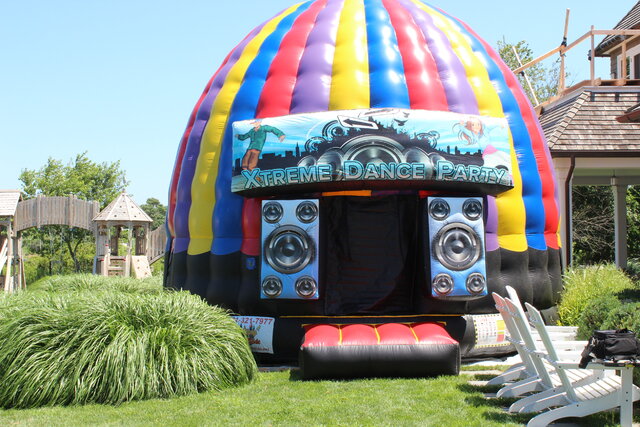 The Rocking Party Bouncer with Music and Strobe lights #B13 is the perfect addition to any party or event. This long Island bouncehouse rental features a range of high-quality bouncing that are designed to provide hours of entertainment for party-goers of all ages.
Each party bouncer in is equipped with music and strobe lights, creating a fun and energetic atmosphere that will get everyone dancing and bouncing. With a variety of designs and sizes to choose from, there is a Rocking Party Bouncer to suit every occasion.
Whether you are hosting a birthday party, family gathering, or corporate event, the Rocking Party Bouncer with Music and Strobe lights #B13 is sure to be a hit. So why wait? Browse our selection today and get ready to rock your next party!