Awesome Inflatable Obstacle Course Rental Long Island
Our inflatable obstacle course rental Long Island is one of the best choices to cool off this summer. New York State can become pretty hot during the summer, and the only way to cool off is either dipping in the pool or having fun with your friends in the backyard. Fortunately, we make having all of this fun both affordable and possible. Our laundry list of inflatable obstacle course rentals Long Island makes having fun with friend and family in more ways than one possible. Regardless of what size event or the type of event you might have planned, we might have just the right type of obstacle course for you. Besides a large selection of party rentals, we guarantee professional customer service, on-time delivery and the free setting up of all obstacle courses on your property. So, you will save a bundle of cash by choosing Jump and Slide in Long Island.
We are a locally owned and family operated company that provides various obstacle course inflatable rentals Long Island to our clients. Regardless of your budget or the type of obstacle course you're looking for, we can assure you of having just the thing. What's more, is the fact that not only do we have a sizable selection of vintage obstacle courses dating back several years, but we have the latest ones too. We make sure to procure the newest inflatables as soon as they are available. That's why regardless of if you need carnival games, bounce houses, concessions or anything else we always have the latest and greatest available.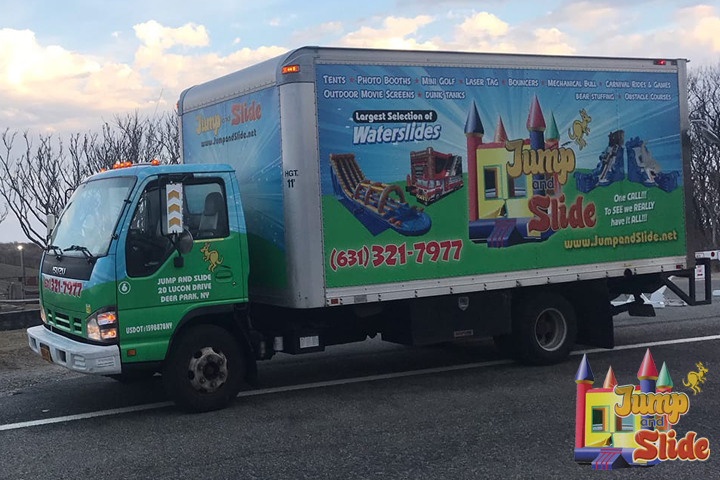 A Healthy Selection of Premium Quality Obstacle Course Long Island
Anyone who has lived in New York for a while knows that it can get pretty hot starting in May. However, May and the summer months after it are amongst the best times to party especially with one of our obstacle course Long Island choices. That's why schools, convention centers, and parks tend to often schedule their parties and events for the summer. The good news is that our obstacle course water slide Long Island offers everything you'll need to get the party started for those summer months or we even have the options for the dry slides for the cooler months too. Our obstacle courses are available for kids of all sizes and ages. In fact, we also have obstacle courses to test the metal of young adults too, so there is something for everyone.
While we have dozens of obstacle courses, water slides and other inflatables, we make it a point to ensure that they are safe to use. We closely inspect each and every one of our obstacle courses Long Island for safety issues before they are delivered to your home or venue of the party. Our inspection is mandatory even though our inflatables are made from the highest quality vinyl. We also make sure that the items delivered to you are free from odor and stains, in addition, to being professionally sanitized. All of these steps are taken to make sure your obstacle course rental in Long Island is safe for everyone to use.
Why Choose Our Obstacle Course Inflatable Rental Long Island?
We have one of the largest selection of obstacle course inflatable rental Long Island. Some of our most popular models include the Extreme All Star Obstacle Course, which allows multiple people to compete against each other. It is also one of our newer obstacle courses. People who want to test their fitness and skills should try the Boot Camp Obstacle Challenge, which also allows participants to compete against each other. Other fan favorites in our inventory include the 70ft Mega Obstacle Course, the Aqua Blaster Course with POOL! And the Radical Run Obstacle Course. All of these have a fairly large fan following and are consequently in very high demand in the summer.
We have made sure to price each one of our affordable obstacle course rentals in Long Island NY competitively. Regardless of which you choose and its price, you will be treated to a quality product that guarantees lots of fun.
How to Book Inflatable Obstacle Course Rentals Long Island NY?
Planning a summer party, already have a date in mind and would now like to book inflatable obstacle course rentals Long Island NY? The good news is that booking your obstacle course is very easy. In fact, ours is the easiest process in the industry and will take only a few minutes to book the items you need. Furthermore, our team is always available to answer any questions you might have about our items. We can also help by giving you a quote for renting our inflatable obstacle course rental in bulk.
Please follow the steps to book your inflatable obstacle courses in Long Island:


Select your Obstacle Course


Choose Date and Time


Enter Customer and Event Information


Finalize Request Deposit and Digitally Sign Contract


Once you have completed the process, you will be contacted by our team, who will want to confirm the reservation. We will also want to know the best time to deliver the obstacle course to your venue. It is important to mention that we need to factor in the time it takes to set up the best obstacle course rentals Long Island NY. That's why we will arrive early to your party to ensure that everything is up and running on time. Alternatively, we can arrive at any time you give us. Regardless, we make it a point never to be late.
Frequently Asked Questions on Long Island Obstacle Courses for Rent
Over the years our customers have inquired about our obstacle courses for rent in Long Island so we have compiled some of the most frequently asked questions. If you have any existing questions about our obstacle course rentals near me, just give us a call!