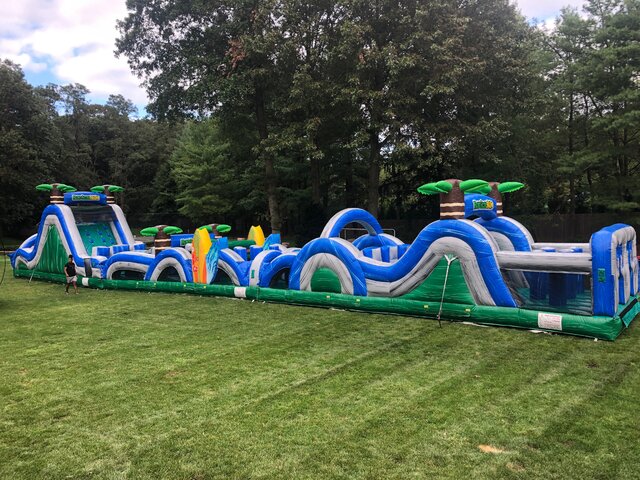 (#5) Mountain MARATHON Obstacle Course
Setup Area: 95'L x 11'W
Outlets: 3 separate electrical outlets Within 100 ft.
Age Group: Kids and Adults (Commercial Grade)




Mountain Marathon Obstacle Course
Item Description:
Looking for the LARGEST inflatable obstacle course on Long Island? Look no further! Introducing the Mountain Marathon Obstacle Course - the ultimate test of strength, endurance, and determination! Brace yourself for an exhilarating adventure that spans an impressive 95 feet in length and 11 feet in width. This colossal obstacle course is not for the faint of heart, so you better be in shape for this one!
Get ready to conquer the challenge of a lifetime as you take on three massive obstacle course sections seamlessly combined into a single, awe-inspiring experience. With its towering structures, heart-pounding obstacles, and adrenaline-pumping design, this Mountain Marathon Obstacle Course will push your limits like never before.
Navigate through a series of daring hurdles, towering walls, crawl spaces, and a treacherous slide. Leap, jump, and climb your way to victory as you conquer each obstacle, feeling the rush of triumph. It's a true testament to your strength, agility, and mental fortitude.
Whether you're organizing an epic team-building event, planning an exciting birthday party, or hosting a community gathering, the Mountain Marathon Obstacle Course is sure to be the highlight of the occasion. Its massive size and impressive design will leave participants exhilarated and craving for more.
So, gear up, rally your friends, and prepare to embark on an epic journey of physical prowess and mental grit. The Mountain Marathon Obstacle Course awaits, ready to challenge your limits, test your skills, and provide an unforgettable experience like no other. Are you ready to conquer the 95-foot adventure that awaits?

Rental Specifications/Requirements:
Supervision is required at all times

Jump and Slide is not responsible for bad weather after delivery

If any issues arise during rental period, client must call or text our office to resolve any problems

If it rains during setup or after unit(s) are setup, be aware as water will get inside the unit(s)

These units are not waterproof. Some units have mesh roofs and others have vinyl. Either one, water can get inside the unit.

We CANNOT set up on sand or walk across sand or STEPS to set up

Client agrees we are not responsible for electrical issues
Don't Delay, Call Today! 631-321-7977