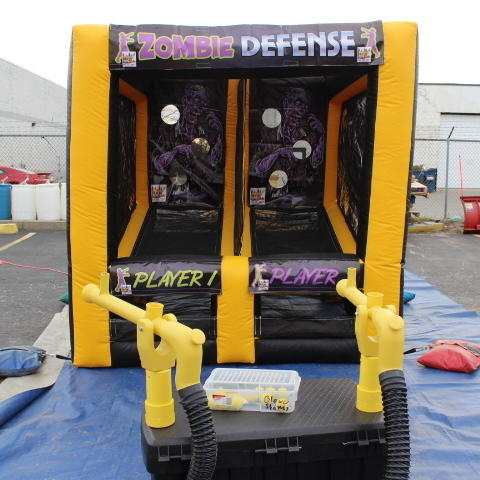 (29) Zombie Cannon Shoot-Out #iG24
Actual Size: 15'L X 12'W X 8'H




Zombie Cannon Shoot-Out
15'L X 12'W X 8'H| POWER: 1 - 20amp circuit | AGE: Kids and Adults

Kids and adults will want to play this awesome shootout! It comes in two different themes: Pirate or Zombie Defense. It comes with pirate or zombie graphics to match your pirate-or-zombie-themed event. One or two people can play at a time. Start out by taking very soft spongy nerf balls and dropping them into the cannon blaster. Take aim as the soft ball flies out and you try to score by hitting your target. If you miss, the ball comes rolling back on the top. And if you are a skilled sharp shooter, the soft ball will dispense on the bottom, which acts as a score keeper.

We deliver to all of Nassau and Suffolk County for party and inflatable rentals. We also deliver to ALL the Hamptons for all your inflatable and party needs!
DON'T DELAY CALL TODAY 631-321-7977