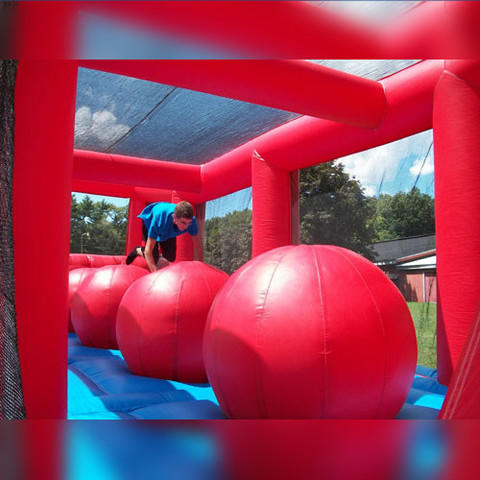 (#3) Wipe Out Big Ball Challenge
Actual Size: 42′ L x 17′ W x 14′ H




Wipe Out Water Slide
42' L x 17' W x 14' H | POWER: 2 SEPARATE - 20amp circuits | AGE: Kids and Adults

You love that popular show, and now, Jump and Slide brings the action to you! We present the Wipe Out! inflatable game rental on Long Island. Have you ever wanted to test your Ninja or Leap Frog skills? Well, we've got the challenge for you. Wipe Out! features a series of four giant inflatable balls, which challengers must leap across to reach the other side. Climb up the ladder on one of the side platforms, high above the biggest ball pit you have ever seen! Then, try to cross the course by leaping from ball to ball like a frog or running across the giant Inflatable balls. But don't worry if you fall off; Wipe Out! provides a soft inflatable landing. We recommend wearing shirts and pants as you may get an inflatable rub burn. REQUIRES TWO SEPARATE OUTLETS
We deliver to all of Nassau and Suffolk County for a party and inflatable rentals. We also deliver to ALL the Hamptons for all your inflatable and party needs!
DON'T DELAY CALL TODAY 631-321-7977