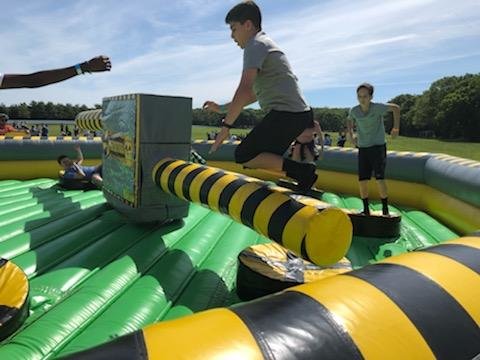 TOXIC MELTDOWN ACTION GAME
All NEW Toxic Meltdown/ Ninja Warrior action game...
Toxic Meltdown is our ALL NEW AWESOME 1-8 player(s)action game, which challenges your stamina, agility, and reactions. Stand on the pedestal get ready and Not one but two spinning boom arms try to knock you off your podium. You have to duck underneath or jump over the foam boom.
Everyone will be laughing so hard...Try not to have a Meltdown once you get knocked off.....
This Toxic Meltdown game rental is a perfect addition for any school carnival, Summer camp, corporate party, perfect for any size event, or just a reason to have fun!
2 HOUR RENTAL WITH TRAINED OPERATOR...ADDITIONAL HOURS MAY BE ADDED
Dimensions:

30ft L x 30 ft W x 10ft Headroom

30' x 30' x 10' headroom

Power Requirements:

Two separate 110 outlets within 100 feet
GENERATORS PLEASE NOTE: THE USE OF PORTABLE GENERATORS TO POWER THE MACHINE CAN DAMAGE THE ELECTRONICS.

If you must use a portable generator, IT MUST BE RENTED FROM US AS WE USE A BRANDED GENERATOR WITH A INLINE POWER SURGE PROTECTOR.....
Don't delay!!!! Reserve it today!!! 631-321-7977 www.jumpandslide.net