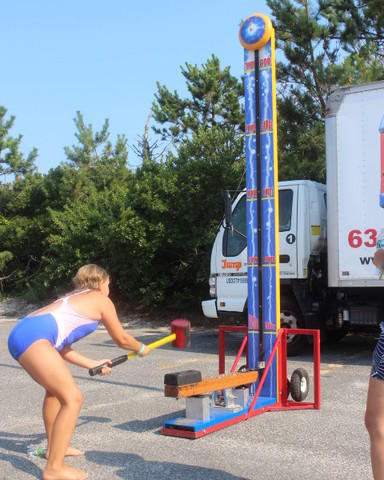 (27) Teen Striker Challenge
Teen Striker
Item Description:
Introducing Teen Striker: Unleash Your Inner Strength! Are you ready to prove your might? Step up to the challenge of our towering Teen Striker! Standing at an impressive 10 feet tall, this incredible attraction will put your strength to the ultimate test.
Get ready to show off your power as you grasp the specially designed mallet and slam it down on the Teen Striker with all your might. Hit the bell, and you'll be crowned the ultimate strongman or strongwoman, leaving your challengers in awe. Perfect for carnivals, festivals, and events, Teen Striker is an exhilarating experience that brings out the competitive spirit in everyone. Gather your friends, family, and colleagues and engage in thrilling friendly competitions that will keep everyone entertained.
So, are you up for the challenge? Step up to Teen Striker and unleash your inner strength. Get ready to make memories and create an unforgettable experience for all.
Rental Specifications/Requirements:
Supervision is required at all times

Jump and Slide is not responsible for bad weather after delivery

If any issues arise during rental period, client must call or text our office to resolve any problems

If it rains during setup or after unit(s) are setup, be aware as water will get inside the unit(s)

We CANNOT set up on sand or walk across sand or STEPS to set up
DON'T DELAY, CALL TODAY! 631-321-7977