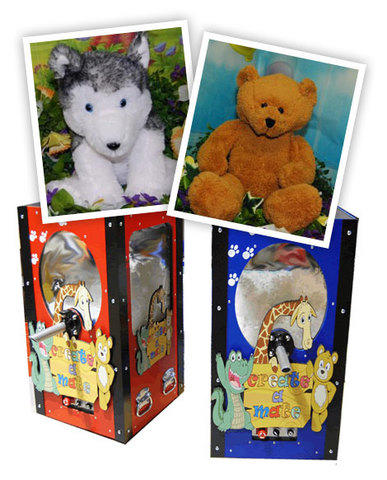 (10) Stuff A Bear Machine Rental
Stuff A Bear Machine
COMES COMPLETE WITH 10 ANIMALS TO STUFF WHICH INCLUDE BITRH CERTIFICATES, MAKE A WISH KEYS, T-SHIRTS TO COLOR WITH MAGIC MARKERS.
(ADDITIONAL SETS CAN BE PURCHASED)
Step 1: Pick your Favorite Critter
Step 2: Watch Your Bear Come to Life!
After you pick thee perfect pet take your pet to the filling station to watch your pet come to life. When fully stuffed close your eyes and make a wish by inserting the key into the pet and close the zipper
Step 3: Artwork Time
COLOR ME TEES FOR YOUR FAVORITE Stuff A pet. Take some fabric markers …One t-shirt provided and let the kids color the tee shirts. When finished the kids get to dress their new pats with their art work… Also comes complete with birth certificate for kids to keep!

We provide additional fun by giving each friend a tee-shirt for your guests to color and decorate with our fabric markers. Once your guests finish, they can dress their new friend and complete an adorable birth certificate for them to keep!
We deliver to all of Nassau and Suffolk County for party and inflatable rentals. We also deliver to ALL the Hamptons for all your inflatable and party needs!