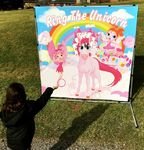 (11) Ring The Unicorn Carnival Game
Ring the Unicorn Frame Game
Item Description:
Join in the enchantment with our "Ring the Unicorn" Frame Game! Step into a world of magic and fun as kids and adults alike try their luck at throwing a magical ring onto the unicorn's majestic horn.
Our "Ring the Unicorn" game is designed to add an extra dose of excitement and entertainment to unicorn-themed celebrations on Long Island.Challenge your guests to test their aim and coordination as they aim to land the ring perfectly on the unicorn's horn. It's a captivating activity that brings laughter and friendly competition, making it an ideal addition to birthday parties, gatherings, or any event that celebrates the enchanting world of unicorns.
Make your unicorn party even more memorable with our "Ring the Unicorn" Frame Game. Contact us today to reserve this exciting attraction and let the enchantment unfold at your event on Long Island.