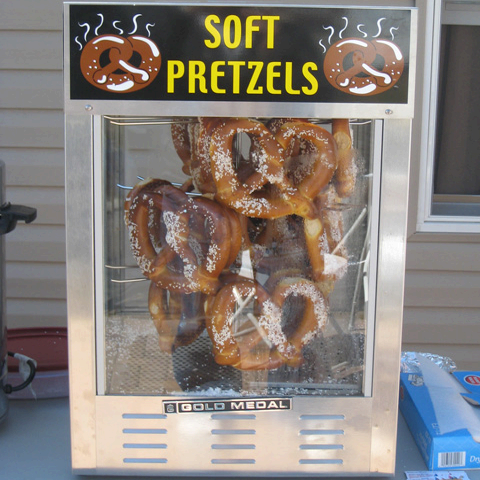 Pretzel Machine #CON10
Outlets: 1 outlet within 100 ft. on separate circuit




Pretzel Machine
Item Description:
Indulge in the delicious aroma and taste of freshly baked pretzels with our Pretzel Machine! This innovative machine is designed to cook your pretzels to perfection. The bottom oven ensures even heating and baking, while the warming spinning unit on top keeps the pretzels warm and ready to be enjoyed.
To use the Pretzel Machine, simply provide your own pretzels and let the machine work its magic. The result? Mouthwatering pretzels with a golden, crispy exterior and a soft, warm interior.
Whether you're hosting a birthday party, corporate event, or fundraising event, our Pretzel Machine adds a delightful and irresistible snack option. Your guests will love the smell of pretzels and the opportunity to savor fresh, hot pretzels.
Please note that pretzels are not included with the machine, allowing you to choose your favorite pretzel variety or even get creative with unique flavor combinations. The Pretzel Machine is easy to operate and ensures a consistent and delicious result every time.
Ready to serve up some delightful pretzels? Reserve our Pretzel Machine today and treat your guests to a delectable snacking experience they won't forget!
Rental Specifications/Requirements:
Jump and Slide is not responsible for bad weather after delivery
If any issues arise during rental period, client must call or text our office to resolve any problems
We CANNOT set up on sand or walk across sand or STEPS to set up
Client agrees we are not responsible for electrical issues
DON'T DELAY, CALL TODAY! 631-321-7977