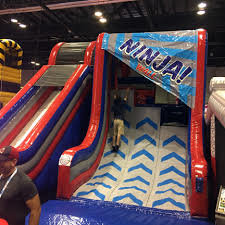 (1) NINJA Warped WALL CHALLENGE
Wall Height Choices: 10ft - 8ft - 6ft

Characteristics: Non-slip vinyl run-up - PVC grab bar to pull yourself up
Dimensions:

20ft x 30ft x 18ft

Power Requirement:

Two 110V outlets
Introducing one of the Newest fun rentals around Long Island
The NEW Ninja Warped Wall Challenge

Just like you saw on tv.
Test your skills by selecting one 1 of the 3 challenging lanes.
The popular Ninja Warped Wall rental has 3 different height levels which
Kids, teenagers, and parents will all have a great time!
Once on top raise your hands and wave to your friends who try to make it to the top as you are sliding down the victory slide laughing........
DON'T DELAY ORDER TODAY! 631-321-7977