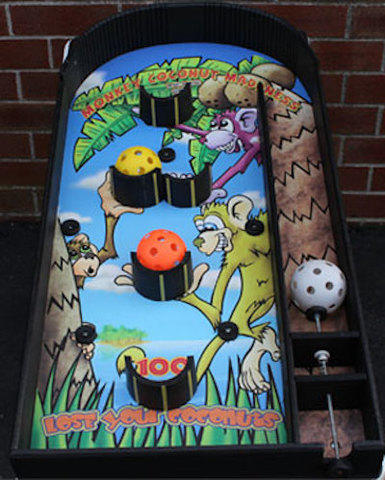 (19) Monkey Madness Table Size Game
Monkey Madness Table Size Game
Item Description:
Step right up and experience the thrill of our Plinko-style carnival game, Monkey Madness! This tabletop game is designed to bring the excitement of a classic carnival right to your event.
The objective is simple but challenging: drop the whiffle balls into the game board, pull the lever, and watch them navigate through a maze of pins. Will they land in a high-scoring slot or take an unexpected path? It's all up to chance and your skillful aim!
This compact and portable game is suitable for indoor or outdoor setups, making it a versatile choice for any event. Whether you're hosting a birthday party, corporate gathering, or community festival, Monkey Madness will keep guests entertained and engaged. We provide a set of whiffle balls and clear instructions, ensuring a seamless experience for all participants.
As part of our commitment to customer satisfaction, we offer delivery services to Nassau and Suffolk County, including the Hamptons. Our dedicated team will ensure that Monkey Madness arrives at your desired location promptly and in excellent condition. We take pride in delivering on our promises, so you can focus on creating unforgettable memories at your event.
Don't miss out on the excitement and challenge of Monkey Madness! Book this Plinko-style carnival game today and let the good times roll. With Jump and Slide, you're guaranteed a reliable and enjoyable experience, so book today!
DON'T DELAY, CALL TODAY! 631-321-7977