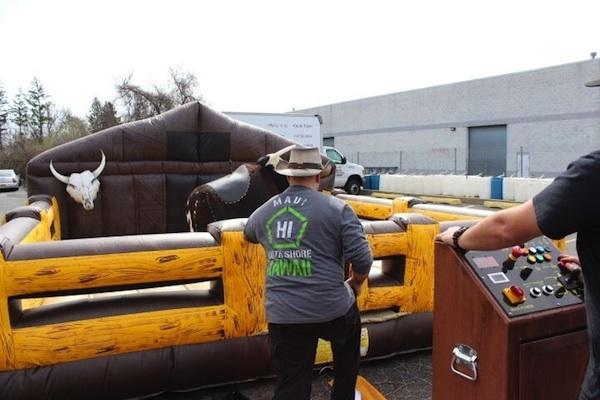 Mechanical Bull Western Theme
Setup Area: 20' x 20' x 10′
Outlets: 2- 110 outlets within 100 ft (on separate circuits)
Age Group: Kids and Adults (Commercial Grade)
Attendants: 1 Trained Operator for Duration of Event




Mechanical Bull Rental For Long Island, NY
Product Description:
Jump And Slide Entertainment now offers Long Island Mechanical Bull Rentals, Yeeee Haw! Looking to rent a Mechanical Bull in Suffolk County? Or Nassau County? Well, it's here! SAFE AND AFFORDABLE…. All NEW Deluxe mechanical bull rentals on Long Island. We shopped for the BEST, SAFEST, BIGGEST, Baddest mechanical bull on the market. The mechanical bull rental is made right here in America. The company has been the #1 provider in making mechanical bulls.
Our deluxe bull takes you back to the WILD WILD WEST. You will see the detailed artwork on the western corral inflatable we set the bull upon. The console has state-of-the-art controls. It also housed in an old ammunition-style themed case. The control console has a LARGE led clock that lets the trained operator know how long the rider has lasted. So everyone knows the time to beat! SAFETY Is Paramount! It has 6 automatic programs set at different riding levels and the AUTOMATIC STOP SYSTEM. As soon as the Cowboy or Cowgirl falls off the bull it comes to a complete stop!
Our trained operator can use the six different programs or operate it manually with the joystick and different speeds. The speed of the bull is decided upon by the rider. Every rider is different in their ability to ride the bull. We can be as gentle as a Calf……Or for the more adventurous or we can adjust it to the full RAGING BULL mode. Our trained operator stars out everybody at a comfortable level and adjusts as the rider adjusts. The mechanical bull looks like a hard fiberglass head, but it's made of a unique Sofolex SOFT FOAM SAFETY HEAD.
Saddle up put on your cowboy hat and bring the stampede to your party by renting our bull today! So, mechanical bull rental Hamptons, party planners, private parties, western theme party, corporate event party, Weddings, Schools, Birthdays, Television and Studio shows, Bat& Bar Mitzvahs, Fairs and Festivals, planning tips ideas, Corporate entertainment, and amusements, Graduation party planning ideas and any event.
Rental Specifications/Requirements:
GENERATORS PLEASE NOTE:

the use of portable generators to power the machine can damage the electronics. If you must use a portable generator, it MUST be rented from us as we use branded generators with inline power surge protection.

WEATHER- as this is a mechanical ride, we CANNOT rent this ride in bad weather (rain, snow, etc.) . If you would like to proceed with the rental and there is bad weather in the forecast, you MUST have a 20x20 tent to cover the bull, this tent does not have to be from our company but must be there to cover the bull

Supervision is required at all times

Jump and Slide is not responsible for bad weather after delivery

If any issues arise during rental period, client must call or text our office to resolve any problems

Bull is NOT operable in the rain and must be completely covered by tent in bad weather conditions

We CANNOT set up on sand or walk across sand to set up

Client agrees we are not responsible for electrical issues
We use stakes to secure all rentals into the ground. If there are any underground lines or sprinklers, client can map/flag where they run underground and we will try to avoid them. If not, client can add on sandbags/waterbarrels to order for additional cost
FREQUENTLY ASKED QUESTIONS:
We have heard way too many stories from people that got on a mechanical bull rental and the operator was a jerk and threw them before they were even seated. Or, of course, there are the stories of the operators that do this to the guys and slow the bull WAY DOWN for the girls. Either way, the rider had a horrible experience, and we just don't understand this type of mechanical bull operation. THESE OPERATORS ARE NOT PART OF OUR BUSINESS! This type of mechanical bull operation just doesn't fly with us. We feel that the rider's experience and safety are the most important elements. We want riders to EXPERIENCE the thrill of the ride on the mechanical bull and look good doing it. We don't want tempers flaring with beer muscles. For this reason, Jump And Slide Inc have a NO THROW policy. This means that we don't throw you off the minute you get on or try to intentionally throw you off before you can have the experience of the ride. People do get bucked off the bull, but it is in a controlled and safe environment. Rider safety, along with the experience, is the utmost objective of a mechanical bull operator. We learned that the safest ride is one that comes with education, so operators provide safety and riding tips. A rider that acquires knowledge and experiences a fun, the safe ride will return to ride again.
We require a flat clean dry space fee from any sharp objects 20' x 20' with a ceiling height of 10' We require an electrical power supply that has 20 amps at 110 volts single phase within 25 feet of where the ride will be situated. If the event is in a club /bar or college campus we will require a minimum of one security personnel.
All participants take part entirely at their own risk; it is your responsibility to ensure that your guests/patrons are fully aware of this. The hire is responsible for any damage done to the hired equipment whilst in their possession/location The hire agrees to indemnify the artist, company, and their employees against any injury or damage caused to a person or persons whilst the equipment/activity is at their premises/location.
If the event is outdoors we reserve the right to close down the event if our operators feel that is unsafe to continue for any reason whatsoever; the operator's decision is ALWAYS FINAL. You can rent a Tent from us to cover your bull rental. In case of any unexpected weather. Tents are also great to keep the riders cool from the sun beating down on them.
Insurance
Rent a Mechanical Bull All of our mechanical bulls carry commercial general liability insurance at a minimum of $1M per occurrence and $2M aggregate. We make no exceptions. Additionally insured certificates are available upon request.
Themes
We have so many different ad ons you can add to enhance your experience. Just ask our sales representative and we will be happy to help you.