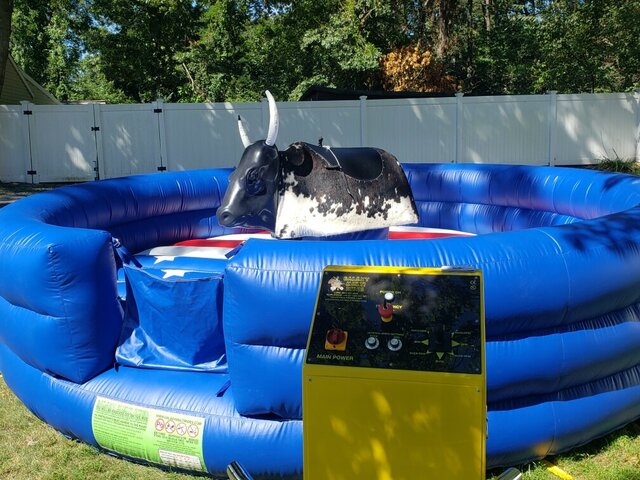 Mechanical Bull USA RING
Mechanical Bull Rental Near Long Island, NY
Jump And Slide Entertainment, Long Island Mechanical Bull Rentals. Looking to rent a Mechanical Bull party rental for an adult party? Or a Mechanical bull party rental for a kid? Well, it's here! SAFE CLEAN AND AFFORDABLE All NEW 2020. The mechanical is placed on a soft like bounce house inflatable Our bull rentals come with the best-trained operators! That is no BULL! We have been operating Mechanical bulls for a very long time. We have a safe track record and our operators are certified.
Our USA Mechanical bull takes you back to the rodeo show. If you are feeling like a brave cowboy or a courageous cowgirl put on your rodeo face and hop on the mechanical bull rental. Once on grab the bull by the horns and show that Bull is the boss of this birthday party or retirement party. This bull can be rented for holiday parties or any surprise party. Looking for a big bad bull rental in Suffolk County or Nassau County Long Island. This bull operates on a console that has the newest and most advanced safety measures for the operator and the bull rider at the party. The control console has a LARGE led clock that lets the trained operator know how long the rider has lasted, while a LARGER LED displays the time of the rider so all the .and the "BEST TIME OF THE DAY" So everyone knows the time to beat! SAFETY Is Paramount! It has 6 automatic programs set at different riding levels and the AUTOMATIC STOP SYSTEM. As soon as the Cowboy or Cowgirl falls off the bull it comes to a complete stop!
SET UP REQUIREMENTS
20' x 20' x 10′ headroom – FOOTPRINT OF AREA
110-240 volts single phase drawing 10-16 amps.
GENERATORS PLEASE NOTE: THE USE OF PORTABLE GENERATORS TO POWER THE MACHINE CAN DAMAGE THE ELECTRONICS.
If you must use a portable generator, IT MUST BE RENTED FROM US AS WE USE A BRANDED GENERATOR WITH A INLINE POWER SURGE PROTECTOR.....
FREQUENTLY ASKED QUESTIONS
We require a flat clean dry space fee from any sharp objects 20' x 20' with a ceiling height of 10' We require an electrical power supply that has 20 amps at 110 volts single phase within 25 feet of where the ride will be situated. If the event is in a club /bar or college campus we will require a minimum of one security personnel.
All participants take part entirely at their own risk; it is your responsibility to ensure that your guests/patrons are fully aware of this. The hire is responsible for any damage done to the hired equipment whilst in their possession/location The hire agrees to indemnify the artist, company, and their employees against any injury or damage caused to a person or persons whilst the equipment/activity is at their premises/location.
If the event is outdoors we reserve the right to close down the event if our operators feel that is unsafe to continue for any reason whatsoever; the operator's decision is ALWAYS FINAL. You can rent a Tent from us to cover your bull rental. In case of any unexpected weather. Tents are also great to keep the riders cool from the sun beating down on them.
Insurance
Rent a Mechanical Bull All of our mechanical bulls carry commercial general liability insurance at a minimum of $1M per occurrence and $2M aggregate. We make no exceptions. Additionally insured certificates are available upon request.
Themes
Ask about our Mechanical Shark rental for Long Island and be sure to ask about our WESTERN THEME MECHANICAL BULL RENTAL