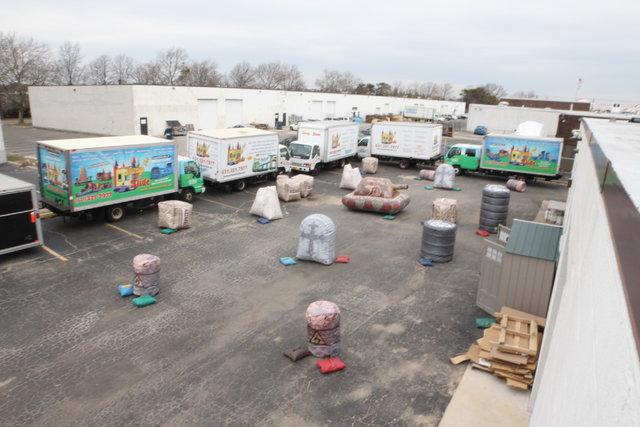 Laser TAG Ultimate Warrior's Battle
Laser Tag Ultimate Warrior's Battle
Item Description:
Introducing our Laser Tag Ultimate Warriors Battle Package, the pinnacle of outdoor gaming brought to you by Jump and Slide! Get ready for an adrenaline-fueled adventure with this all-inclusive package, featuring 8 top-of-the-line laser tag guns and a personally designed laser tag course that we'll set up right in your backyard.
Prepare for intense battles as you and your friends take cover behind an assortment of bunkers and barricades strategically placed throughout the course. With a wide variety of hiding spots, the excitement never ends as kids and adults alike engage in thrilling laser tag skirmishes.
But that's not all! Our Laser Tag Ultimate Warriors Battle Package includes a staggering 18 pieces of equipment to take your gaming experience to the next level. Imagine the thrill of battling it out amongst 2 Large Tombstones, 2 Large rocks, 3 Bunker Tires, 5 Acme Bunker Boxes, 5 Oil Barrels, and a GIANT M1A1 ABRAMS TANK. The possibilities for epic gameplay and strategic maneuvers are limitless.
Don't miss out on this ultimate laser tag experience that brings the battlefield right to your doorstep. Book now and get ready to embark on an unforgettable adventure!
Remember, we proudly deliver the Laser Tag Ultimate Warriors Battle Package to all of Nassau and Suffolk County, including the Hamptons. Availability is limited, so contact us today to secure your reservation. Get ready for the ultimate laser tag showdown!
Summary of Items Included:
8 laser tag guns

Course set up in your backyard

18 pieces of equipment: 2 large tombstones, 2 large rocks, 3 bunker tires, 5 acme bunker boxes, 5 oil barrels, and a giant M1A1 Abrams Tank
Rental Specifications/Requirements:
Supervision is required at all times
Jump and Slide is not responsible for bad weather after delivery
If any issues arise during rental period, client must call or text our office to resolve any problems
If it rains during setup or after unit(s) are setup, be aware as water will get inside the unit(s)
These units are not waterproof. Some units have mesh roofs and others have vinyl. Either one, water can get inside the unit.
We CANNOT set up on sand or walk across sand or STEPS to set up
We use stakes to secure all rentals into the ground. If there are any underground lines or sprinklers, client can map/flag where they run underground and we will try to avoid them. If not, client can add on sandbags/waterbarrels to order for additional cost
Client agrees we are not responsible for electrical issues