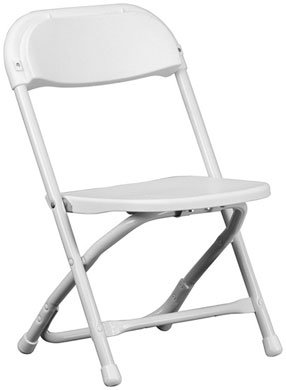 Kids Size Small WHITE Chairs
Kids Small White Chairs
Item Description:
Introducing our Kids' White Folding Chairs, the perfect seating solution for your little ones! These adorable chairs are designed with comfort and style in mind, offering a convenient and space-saving option for any event.
Crafted with high-quality materials, our kids' folding chairs are sturdy and durable, ensuring they can withstand the playful energy of children. The sleek white finish adds a touch of elegance to any setting, making them suitable for both casual and formal occasions.
Whether you're hosting a birthday party, a school function, or a family gathering, our kids' white folding chairs provide a comfortable and safe seating option for children. They are lightweight and easy to transport, allowing for quick and hassle-free setup.
Please note that linens are not included with the chairs. We proudly deliver to all of Nassau and Suffolk County, including the Hamptons!
Make your event complete with our Kids' White Folding Chairs. Contact us today to reserve your rental and ensure a memorable and stylish seating arrangement for your little guests.