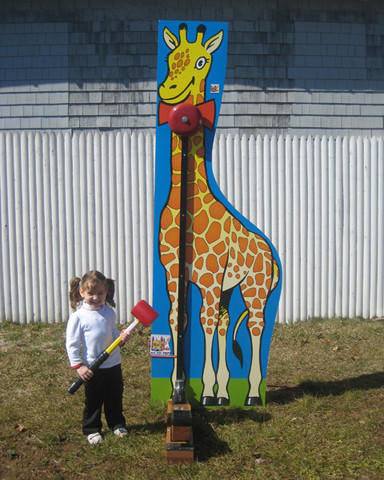 (17) Kid Striker Giraffe
Kid Striker Giraffe
Item Description:
Introducing the Kid Striker Giraffe, a thrilling and interactive game that will entertain kids of all ages! This whimsical attraction features a vibrant Giraffe design that adds a touch of fun to any event. Get ready to show off your strength and skill as you try to ring the bell!
Participants will grab the mallet and give it their all, aiming to strike the target with enough force to make the bell at the top of the pole ring loud and clear. It's a challenging game that will keep everyone engaged and excited to see who can achieve the highest score.
The Kid Striker Giraffe is the perfect addition to carnivals, birthday parties, school events, and more. It offers endless entertainment and friendly competition that will create unforgettable memories for everyone involved.
Don't miss out on this crowd-pleasing attraction! Contact us today to book the Kid Striker Giraffe and add a dash of excitement to your next event. We deliver to all of Nassau and Suffolk County, including the Hamptons!

DON'T DELAY, CALL TODAY! 631-321-7977