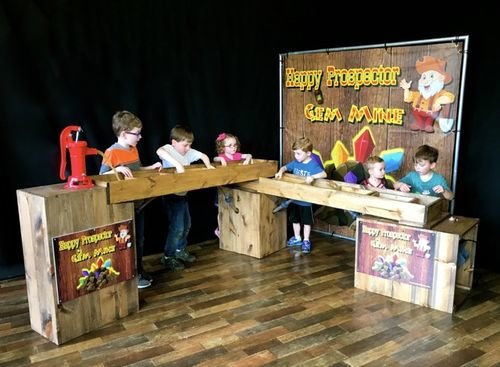 (1) Gem Mining Discovery Attraction
Outlets: 1- 20 amp circuit within 100 ft.
Age Group: Kids and Adults (Commercial Grade)




Gem Mining Discovery Attraction
Item Description:
Unearth the excitement of gem mining with our Gem Mining Discovery Attraction! Perfect for educational and fun experiences, this attraction comes with 15 bags of gems, each containing up to 20 gemstones hidden in dirt. Your kids will become treasure hunters using a chart to identify the gemstones they find.
The adventure doesn't end with one kit; additional kits can be purchased for $15.00 each, allowing up to 6 kids to play simultaneously. With recirculated water flowing from a water fountain into a sluice-way, children will receive a mining rough bag and pan for gemstones using a wooden panning tray with a screen.
Every bag contains a variety of gemstones, including Pyrite, Rubies, Sapphires, Quartz, and Amethyst, sparking their curiosity and sense of exploration. To set up this gem mining fun, you'll need 1 electrical outlet and access to a water source to fill the bucket.
Let your kids discover the joy of gem mining the old-fashioned way with this interactive and entertaining attraction. Reserve the Gem Mining Discovery Attraction now and watch them uncover precious gemstones right before their eyes! Jump and Slide Entertainment is here to bring the excitement of gem hunting to your event, making it a gem of a time for all!
Important Notes:
Rental includes 15 bags of gems

Each additional bag of gems is $15 plus tax

Up to 6 children at a time can use the gem mining

You will need 1 electrical outlet and a hose to reach the area of set up

Each bag has a variety of gems, and can include pyrite, rubies, sapphires, quartz, and amethyst. Each bag is mixed differently and contains a different amount of gems
Rental Specifications/Requirements:
Supervision is required at all times

Jump and Slide is not responsible for bad weather after delivery

If any issues arise during rental period, client must call or text our office to resolve any problems

If it rains during setup or after unit(s) are setup, be aware as water will get inside the unit(s)

These units are not waterproof. Some units have mesh roofs and others have vinyl. Either one, water can get inside the unit.

We CANNOT set up on sand or walk across sand or STEPS to set up

Client supplies the water and water hose. Client is aware not to use retractable pocket hoses as it will take hours to fill up. Client agrees we are not responsible for water pressure or electrical issues