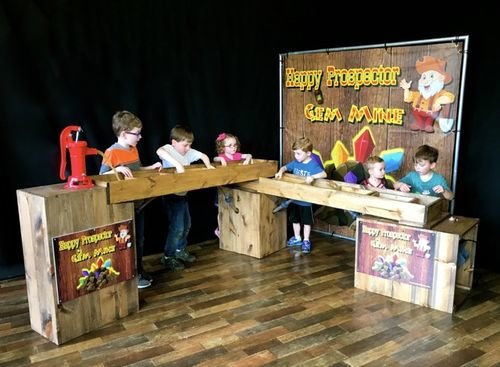 (1) Gem Mining discovery attraction
COMES WITH 15 BAGS OF GEMS...EACH KIT CONTAINS UP TO 20 GEMSTONES HIDDEN IN DIRT. ALSO COMES WITH CHART TO IDENTIFY BURIED TREASURE THAT YOUR KIDS WILL FIND
ADDITIONAL KITS CAN BE PURCHASED FOR $12.00 EACH
UP TO 6 KIDS CAN PLAY AT THE SAME TIME
Gemstone mining is an educational, fun, and easy way to search for gems the old-fashioned way. The RECIRCULATED water flows from a water fountain and runs into a sluice-way.
Children will receive a mining rough bag and take their place at the sluice, then they will begin to sift through the gemstone mining rough using a GEM WOODEN panning tray with a screen.
Kids will discover up to 20 individual gemstones in each bag including Pyrite, Rubies, Sapphires, Quartz, and Amethyst.
NEED 1 ELECTRICAL OUTLET AND A WATER SOURCE TO FILL BUCKET