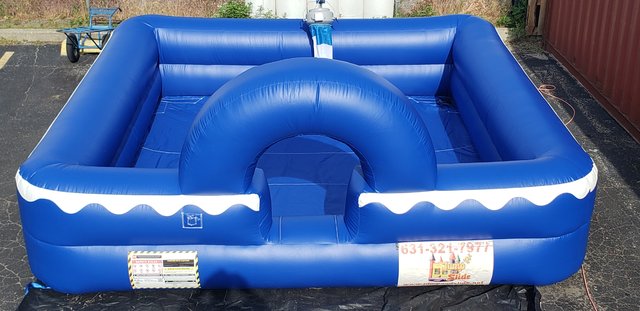 (#10) Gaga Ball Pit Blue
Setup Area: 15'L x 15'W
Outlets: 1- 20 amp circuit within 100 ft.
Age Group: Kids and Adults (Commercial Grade)




Gaga Ball Blue Pit
Item Description:
Introducing the Gaga Ball Pit - the ultimate fun and action-packed game that kids will absolutely go Gaga over! This summer camp favorite is now available for your backyard or any camp looking to join in on the excitement.
In this thrilling game, kids and adults alike must maneuver quickly to avoid getting hit by the soft foam ball. Similar to dodgeball, the ball must be below the knees when thrown, and once you're hit, you're out! It's every player for themselves inside the Gaga pit inflatable rental.
Get ready for some friendly competition as players battle it out to be the last person standing and declared the ultimate winner! The Gaga Ball Pit guarantees hours of fun and laughter for everyone involved.
Don't miss out on the chance to bring the excitement of Gaga Ball to your next event. Reserve the Gaga Ball Pit today and experience the joy of this sensational and interactive game. Get in on the action and make your gathering an unforgettable one!
Official Game Rules of Gaga Ball:
All players start with one hand touching a wall of the pit.

The game begins with a referee throwing the ball into the center of the pit.

When the ball enters the pit, the players scream 'GA' for the first two bounces, and 'GO' on the third bounce, after which the ball is in action.

Once the ball is in play, any player can hit the ball with an open or closed hand.

If a ball touches a player below the knee (even if the player hits himself or herself) he or she is out and leaves the pit. If a player is hit above the knees, the play continues.

If a ball is caught on a fly, the player who hit the ball is out.

Using the walls of the octagon to aid in jumping is legal as long as the player does not permanently sit on the ledge of the octagon.

Players cannot hold the ball.

If needed, a second ball can be thrown in the pit to expedite the end of the game. The last player standing is the winner of that round.
Rental Specifications/Requirements:
Supervision is required at all times

Jump and Slide is not responsible for bad weather after delivery

If any issues arise during rental period, client must call or text our office to resolve any problems

If it rains during setup or after unit(s) are setup, be aware as water will get inside the unit(s)

These units are not waterproof. Some units have mesh roofs and others have vinyl. Either one, water can get inside the unit.

We CANNOT set up on sand or walk across sand or STEPS to set up

We use stakes to secure all rentals into the ground. If there are any underground lines or sprinklers, client can map/flag where they run underground and we will try to avoid them. If not, client can add on sandbags/waterbarrels to order for additional cost

Client agrees we are not responsible for electrical issues