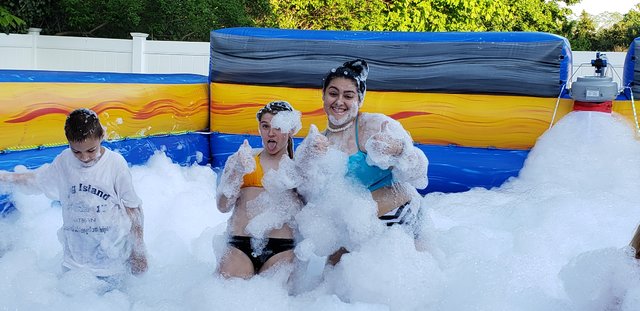 FOAM PARTY PIT Marble Colors #IG 43
You asked for it???? And Jump And Slide got it!!!!!! All-new exciting Foam party rentals bring good clean fun to your event. Whether you are having a young kids' party or celebrating a graduation, foam party rentals on Long Island make everything more fun.
Thick foam pumps out of the machine into the pit for everyone to dance and play in.
The foam machine is placed at the back of the inflatable foam pit and pumps piles and piles of thick luxurious foamy bubbles into the pit. Once the bubbles pile up and the pit is full (20-30 min) it is time for the fun to begin! The foam *can* stack up quite thick, so if you are hosting a party for smaller children, you will want to monitor the foam production and stop it every once in a while.
The foam is an all-natural hypoallergenic product similar to a bubble bath. The foam powder produces the best foam on Long Island.
We are a one-stop-shop for all your party and event rental needs! If you have any questions, please do not hesitate
to give one of our event specialists a call at 631-321-7977
ADULT SUPERVISION IS REQUIRED 100% OF THE TIME WITH THE FOAM PIT. THERE IS NO DIVING ALLOWED. THE FOAM PIT IS NOT A POOL! AND CONTAINS MINIMAL WATER.
EACH FOAM PACK PRODUCES FOAM UP TO 1 HOUR DEPENDING ON HOW MUCH FOAM YOU LIKE
ADDITIONAL PACKS OF FOAM CAN BE PURCHASED FOR $45.00 PER PACK TO KEEP IT GOING
Foam Dance Pit II- Marble Blue
This Foam Dance Pit measures 25 x 25 x 8, and holds a whopping 2,800 cubic feet of bubbles! Built securely......
Company Picnics,
College Events,
College parties,
Fundraising parties,
Backyard foam pit party,
Birthday foam parties,
Fraternity party,
Sorority foam dance parties,
Clubs and night club foam dance parties,
Bachelor party,
Raves foam parties,
Festivals.
Each board-certified, 100% organic product. See and try for yourself. One pack is. simple, easy-to-use powder solution. .Each bag lasts up to an hour and a half and only needs to be stirred into the water. It's really simple. Open, dump, stir, and use.
When it's young kids you useless. When it's a 22-year olds birthday party you use more because they want bigger volume, taller, quicker foam. As stated; it's 100% organic.