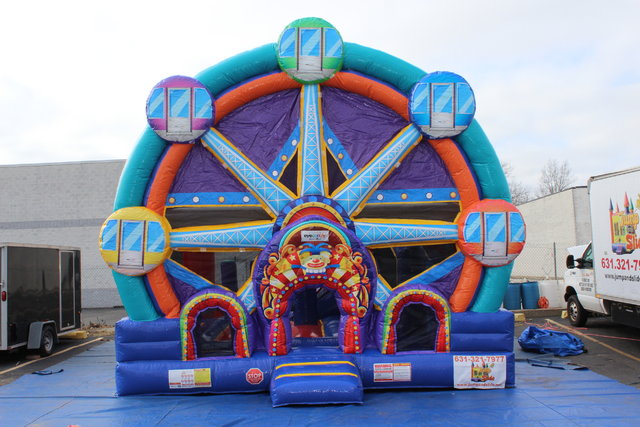 (14) FERRIS WHEEL DELUXE
FERRIS WHEEL DELUXE
18'W X19' DEEP AND 17 FEET TALL | POWER: 2 - 20amp circuit | AGE: Kids and Adults
Step right up! Order this all-new beautiful, action-packed, Ferris Wheel…Guaranteed to be the talk of the town. It towers over everything at 17 FEET TALL!!!!
This Inflatable Ferris Wheel rental on Long Island is not your average Ferris wheel bouncer other companies have to offer. We equipped this deluxe Ferris wheel with a bouncer inside along with a basketball net to shoot a game of hoops. But wait there is more……We have a climber to reach the top of the slide and take a ride down….Then navigate your way through all the different obstacles we put inside…..Finally, the last thing we placed in this Deluxe Ferris wheel is a beautiful carnival game on the side……
Perfect for Carnival Party rentals, school fairs, church events, fundraisers, 1
st
birthday parties, or any backyard party rental on Long Island. Servicing all of the Hamptons, Suffolk County, and Nassau county.
Don't wait until the last minute for this one….
Order the FERRIS WHEEL DELUXE TODAY
631-321-7977