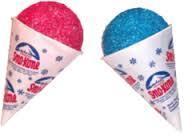 EXTRA SNO KONE SUPPLIES #CON4A
Each machine comes with 1 package of 45 servings.
1 BOTTLE OF RED SYRUP & 1 BOTTLE OF BLUE SYRUP
ALSO 45 PAPER CONES. CLIENT SUPPLIES CUBED ICE
If you would like to order additional packages of 45 servings please select how many extra packages you would like.
DON'T DELAY CALL TODAY 631-321-7977