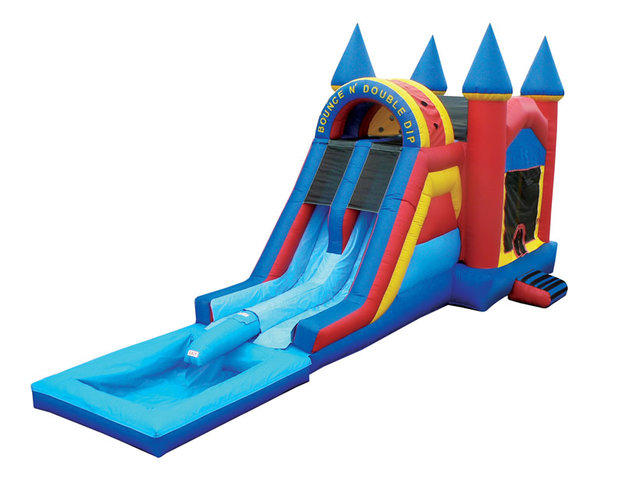 (#56) Bouncer N Double Dip 2 lanes WITH POOL WS12
Actual Size: 38' L x 13' W x 18' H




38' L x 13' W -18 H | POWER: 1 - 20amp circuit | AGE: Kids and Adults
WE DO NOT SETUP ON SAND OR WALK ACROSS AND TO SETUP
Client supplies the water and water hose. Client is aware not to use retractable pocket hoses as it will take hours to fill up. Client agrees we are not responsible for water pressure or electrical issues
CUSTOMER MUST PROVIDE WATER AND HOSE FOR WATERSLIDES
We don't just promise.....We deliver!
For years, customers asked me how come other companies have party rental Water Slides with Bounce house combo's and you don't? I always say most other companies don't care about safety! We assured this with our non-slip material on the bouncer. Enter the unit, bounce around then race up the stairs to the dual lane slide. When they reach the top, they'll race each other down the exciting, fast water slide lanes and make a big splash in the pool of water at the bottom. All kids and adults love this safety-enforced inflatable rental!
We deliver to all of Nassau and Suffolk County for a party and inflatable rentals. We also deliver to ALL the Hamptons for all your inflatable and party needs!
DON'T DELAY...CALL TODAY 631-321-7977
56