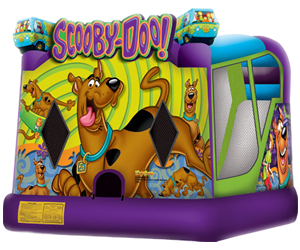 (24) SCOOBY DOOBY DOO BOUNCER AND SLIDE #CU28
SCOOBY DOOBY DOO----RIKES! A PARTY!!!
SIZE: 21' L x 16' W x 15' H | POWER: 1 - 20amp circuit | AGE: Kids and Adults
This licensed Scooby-Doo combo is sure to bring Scooby fans young and old to join in the Mystery Team adventure.
Scooby Dooby Doo! Shaggy, Velma, Daphene, Fred, and Scooby as they take on the next bad guy!
Jump And Slide guarantees a Scooby-snacking Jump And Slide time!
Kids can bounce in the large jumping area, shoot some hoops by playing basketball,(client to provide softball) or climb the steps to mystery slide hidden inside. This Scooby doo rental bouncer has everything to keep
Your child busy at any party.
Don't delay call and reserve today! 631-321-7977
If it rains during setup or after unit(s) are setup be aware units will get water inside.
These units are not waterproof. Some units have mesh roofs and others have vinyl. Either one will get water inside the unit. Jump And Slide Inc will not be responsible for bad weather after the unit is delivered.