Affordable Choice for a Dunk Tank Rental Long Island
We have the largest, most varied selection for a dunk tank rental Long Island. Contrary to popular belief, there are various types of dunk tanks. Unfortunately, most people have no idea of the various dunk tanks available in New York, and so they just opt for a conventional one. Fortunately, our sizable selection so a Long Island dunk tank will spice up your party, not to mention help many of your guests cool off this summer. Our dunk tanks are also available in numerous sizes, and they include smaller ones for kids and large tanks for adults. However, every one of our tanks is safe to use.
Jump, and Slide has been in the party rental business for over a decade. We have worked with homeowners planning a party during this time, provided dunk tank for Long Island party to charities, local businesses, and even parties in the park. In every instance, we've ensured that our items are the best in the business. We've also helped clients choose the right type of tank depending on the party they were planning. That's why we have a reputation for helping our clients choose the right dunk tank Long Island, NY. What's more, if you need advice, our team is just one call away and willing to help!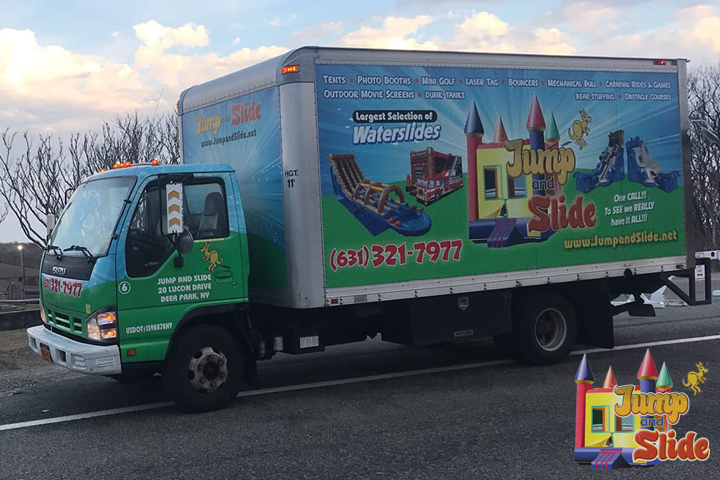 Fun in The Sun Dunk Tank Rentals Long Island
We have over the years rented out our dunk tank rentals Long Island to everyone from churches and schools to people hosting backyard parties. Dunk tanks offer hours of fun for everyone, and though it might appear dangerous, we assure you it isn't. In fact, every dunk tank rentals on Long Island we have for rent is 100% safe to use. We make sure to check and recheck everything, ensuring that the tank can be operated safely. However, as professionals, we still leave nothing to chance, which is why even our cheap dunk tank rental Long Island comes accompanied by an expert. The expert on hand ensures that the drunk tank is operated safely, and if there is a problem (which there rarely is), they address it right away.
Furthermore, we make every effort possible to inspect the Long Island dunk tank rental, ensuring that they are clean. To us, the hygiene of the dunk tanks is essential. A well-maintained dunk dank is free from stains, odor and looks like new. That's exactly the type of dunk tank rental Long Island NY, you can expect from us.
We go to great lengths to ensure that our dunk tanks are sanitized and clean for your Long Island party. We clean them before they are delivered to your party and before they are stored away in our warehouse after the party. Taking this approach in our experience helps ensure that the tanks are free from germs and is odor-free.
Why Choose Our Dunk Tank Rental on Long Island?
We know from experience that there is no shortage of options for a dunk tank rental on Long Island. In fact, the number of companies offering dunk tanks for rent has more than doubled in previous years. However, what makes us stand out is that we have a larger variety of safe and, most of all, entertaining dunk tanks for rent on Long Island. Regardless of the theme or the type of party you have planned, you can bet that we have a few tanks that will fit the bill.
Some of our most popular dunk tank in Long Island types include the Water Gun Classic Balloon Pop, Big Splash, Water Blaster, and the all-time birthday favorite called the Birthday Throne. The fun doesn't stop there because we have many other items that go great with your dunk booth like laser tag and more. We make sure that all of these dunk tank rentals Long Island NY are delivered to your doorstep hours before the party is scheduled, and our team sets them up for you.
We Deliver Dunk Tanks Across Long Island, New York
Our Long Island rent dunk tank is delivered across the city, and it can be delivered at any time. We are New York's leading dunk tank rental service, and our focus is on making sure that you have a great time. From the time you call us to when we pick up the dunk tanks Long Island after the party, we want to make sure that your experience is pleasurable. What's more, is the fact that we always deliver dunk tank rentals on Long Island on time. Sure, it can be logistically challenging at times, but thanks to our years of experience and a dedicated team, you can be assured that we will be there.
In addition to delivering the best cheap dunk tank rental in Long Island to homeowners, we also deliver them to parks, charities, schools and event centers. Our dunk tanks are some of the most sought-after for parties of all sizes, but they are in particular popular at school parties and charity events.
How to Book Your Dunk Tank Long Island?
Now is the best time for a summer party and we are glad that you're planning one right now. We assume that you already have a date in mind and already know what you want to hire. However, if you are not sure which dunk tank Long Island will work for you, feel free to call us, and one of our experts will guide you.
Assuming that you have everything planned out and only now need to rent a dunk tank Long Island, we've made the process incredibly easy and hassle-free. All you have to do is follow the steps outlined below:


Select your Dunk Tank or Water Game


Choose Date and Time


Enter Customer and Event Information


Finalize Request Deposit and Digitally Sign Contract


Once you have been through the process of booking a Long Island dunk tank, one of our team members will reach out to you. We will want to confirm that you've made a reservation for a dunk tank or any other item(s), for that matter. We will also want to know what is the best time to deliver the dunk tank rental. Please keep in mind that items like dunk tanks that need to be prepared should be delivered a few hours before the scheduled party since that allows for enough time to set up everything. Though make sure that there is a tap or faucet nearby to fill the tank.
Frequently Asked Questions on Dunking Booth Rentals in Long Island
Over the years our customers have inquired about our dunking booth rentals in Long Island so we have compiled some of the most frequently asked questions. If you have any existing questions about our dunk tank rentals near me, just give us a call!
Testimonials from Happy Customers Who Rented a Dunking Booth from Us
"I would have to say that Jump and Slide is the best party rental near me. They offer excellent rates coupled with impressive service. That's why I use them for every party."
"They are the best Long Island party rentals / inflatables service near me. I have used their service for years and am a highly satisfied client."
"Jump and Slide has the best customer service, and many party items they have can't be found anywhere else near me."
"The best party rental near me, the guys at Jump and Slide, are true professionals and care about their clients. That's why they have been my go-to service for a few years now."