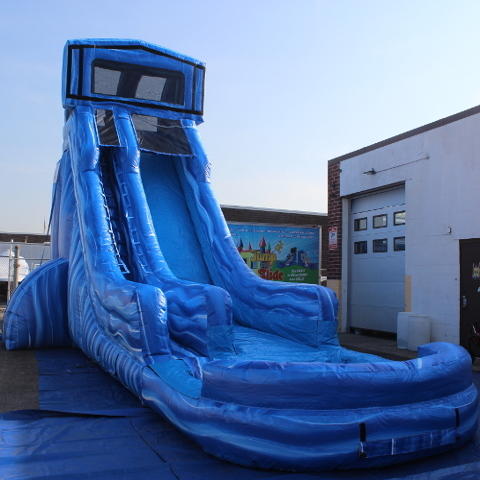 Blue Lagoon GIGANTIC Themed Water Slide #WS6 ...........WITH POOL!
#WS 6………BLUE LAGOON THEMED WATER SLIDE WITH POOL!!……………….

.32X13
POWER: 1 - 20amp circuit | AGE: Kids and Adults
CUSTOMER MUST PROVIDE WATER AND HOSE FOR WATERSLIDES
ALL NEW LONG ISLAND INFLATABLE WATERSLIDE RENTAL.
This big Blue Lagoon waterslide is a MONSTER….We purchased a waterslide that can match the theme of your party. We have hundreds of themes to choose from. Kids and adults climb all the way to the top. Catch your breath take a seat and be prepared for a wild wet ride. You will torpedo down very fast landing in the pool of water at the bottom OF THE LAGOON. They even put an extra safety bump on the pool to make sure you don't fly out. This waterslide is not for the people who don't like speed. Yes we deliver to East Hampton, West Hampton, Bridge Hampton, and all the Hamptons for inflatable party rentals. In fact we deliver to all of Suffolk County and Nassau County for party rentals and inflatable rentals on Long Island.
DON'T DELAY...CALL TODAY 631-321-7977